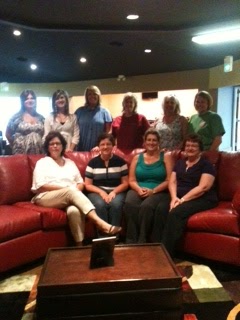 FaithReaders
Not everyone could make the
first group, but look at all these
lovely ladies!
Reading, dessert, (some even weight watcher friendly), and coffee. Who doesn't love that?
Last night we launched FaithReaders, a bookclub/lifegroup at my church, in our sweet cafe.
Four years ago, my husband and I pastored, and yes I say pastored, even though it wasn't a paid position, our young adult group. 18-28. Tim had led the choir previously, and I had led Women's Ministry. We loved every minute of it.
But where I felt the most connected, was teaching the young adults on Sunday mornings. I wanted to impart so much to them. I wanted them to have a voracious appetite for the Word. To understand it. Long for it. Live for it.
So I began writing Bible studies. They called them Patch Packets. I did it for 2 reasons. 1. I wanted them in their Word, studying–not just skimming and wondering, "Huh?" and 2. I wanted them to understand the Old Testament. To see it as more than an angry God with tons of rules, smiting this and that.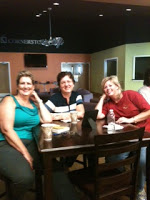 I loved those few years. They learned. I learned. We both grew, and I never felt more connected in the body of Christ as when I was teaching. To watch nearly 20, and sometimes more, young adults pull themselves from bed to show up early on Sunday morning was amazing. It was an honor for me.
Our church cut Sunday morning teaching aka Sunday school, because they didn't feel there were enough attenders to keep it going, or it wasn't relevant with today's generation of church goers. Maybe there weren't. Maybe it's not.
But it was to me.
We still led our group, but I wasn't as actively involved. My husband preached on Friday nights and while I was available, I wasn't connected. I wasn't a big toe or a pinky. It was a lonely time for me.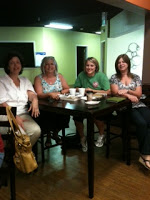 After a few years of service, we felt like it was time to pass the torch to someone else. A young couple in our church took the group, and they're amazing. They're taking it to a level we couldn't. That's how it's supposed to be. I'm proud of them.
But now, we really had no fit. We picked up nursery, because it's something we could do, and we felt like we needed to be doing something. See a need, fill a need (Robots the movie). Tim loves harassing babies, ahem…loving on babies!
I kept feeling God nudge me to start a book club at church. I kept telling Him I didn't have time. I wrote out a list of why and held it up to Him. Not really, but basically.
He said to me, "You're going to do it. Period."
"Fine! Geez, You don't have to be so Bossy about it."
He gave me "The Eye." I know He did.
And then…when I surrendered in my Jessica-kind-of-way…
Ideas began to spring to my mind, like wildfire. I felt that old giddiness well up in my heart. Excitement raced through my body at the possibilities! I stood at my table during two Sundays and watched as 25 women signed up. Bonded already by faith and the love of fiction.
We're not simply reading books and discussing them.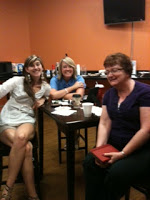 We're praying about which books to read, asking God to speak to us–minister to us through the stories. We're praying for the author each day we read (let's face it, us writers need prayer), and we're going outside the walls and into the community. Oh yes, we can share our faith through books.
We can volunteer our time at libraries, one of our members is a librarian in our community! We can can help with literacy programs. The ideas are limitless and we can show, through our love, time, and service who Jesus is. We don't have to keep it contained within our group.
That's not what it's about.
And once again, I feel connected. I feel part of the body of Christ again. And it feels good!
I had a great time last night. We talked, laughed, shared. I missed the women who couldn't be there and look forward to them laughing with us in September.
Next month we'll be discussing our first book, The Edge of Grace by Christa Allan. And…each month I'll be posting our GROUP REVIEW! How fun will that be? You'll get to meet our members, and hear what they all had to say.
Are you in a book club? What books have you read, and do you get involved in your community?