Normally, I do a book review or introduce a new friend on Mondays, but last Friday I was tagged over at D.U.O says. Thanks, so much D.U.! I appreciate it.
So, I'm playing along because it looked like fun! I'm gonna follow the rules and tag a few folks myself, if you want to play great, if not…it's all good. You'll just die a slow, gruesome death. 🙂
TAG QUESTIONS:
Do you think you're hot?
Only when I'm sweating bullets by the pool.
Upload a picture of the wallpaper you are using.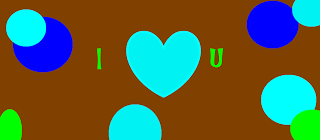 My daughter made this for me! Isn't she sweet?
Right after she made it, she asked for an iPhone.
Heifer.
When was the last time you ate chicken?
Does Crow count? It falls into the poultry category, right? I eat it about every day!!!
What song or songs have you listened to recently?
The Script, For the First Time I've been listening to it over and over on my CD while writing a few scenes.
Do you have any nicknames? If so what are they?
Jesse, Jess, and my sister calls me J.R. My cousin calls me Jessa K. And then of course, I was called "Ozzy"and "Oz" because of my maiden name, Osborn, and "shorty" in highschool. Real original, huh?
Tag 5 bloggers
Here's where you fall into categories. You either hope: "Pick me this looks like fun!" or "Oh, dear Granny, please don't pick me." You try to fade into the background of my mind so I won't call on you. You slink down on your side of cyber-space and chant, "no, no, no."
Brandi Boddie–Brandi is really wonderful, and I love her blogs about life and writing. She's just been recently contracted!
Sheri Salatin– Sheri writes romantic suspense with a farming flair. She also writes great book reviews and yummy recipes as well as other cool random things.
Marji Laine– I met Marji through twitter. She's like the friend you've always had. I enjoy reading her blog. She writes whodunits with a side of Texas sassy!
Loree Huebner–Loree is a civil war reenacter (is that a word? reenacter?) and she writes historical fiction and inspirational romance, mainly Civil War era. I always leave her blog feeling smarter about history!
Brett Minor–Brett's sarcasm is hysterical. We grew up together–imagine the stories we have! When I want a good laugh, I know Brett is gonna give me one. I just wish he blogged at least 3 days a week…ahem!
So I've passed on the mantle! Just link back to this site when you post, if you post, and I'll be sure to come by and comment! 🙂 Happy Monday, y'all.
Question: What song best describes you?