Remember this movie? Most of us will say how  much we loved it. We saw a woman in a dead end, saved by a man of power, wealth, and sophistication. What's not to love? It had a happy ending.
1 million children each year are exploited in the global commercial sex trade.
50 % of all trafficking victims worldwide are children.
2.3 million girls and women work as prostitutes and madams in India
2,000 girls are rescued from sex-slavery each year in India
200,000 persons are trafficked into, within, or through India annually.
95% of the children of prostituted women in  Bombay eventually become enslaved in prostitution.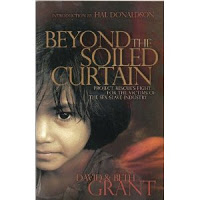 $400 million in revenue is generated each year by Bombay's red-light district.
These statistics were taken from Beyond the Soiled Curtain by David and Beth Grant, who are missionaries to India and head the Project Rescue ministry which is dear to my heart. You can find links on my site.
Pretty Woman isn't the life these girls live. Most of them are fooled into believing they're going to work to help their families, the families themselves many times are duped into believing it and they send their daughters as young as 8 and 9 into the hands of men who will abuse them in ways that would make you shiver. They keep them in cages at times, naked, terrified, beaten.
In a life that seems hopeless, there is hope. There is a light shining. Project Rescue is one of the many ministries out there helping to free girls and women out of this industry and bring them the healing and hope from Jesus Christ.
Today, I ask for In the Word Wednesday that you'll promise to say a prayer for these girls and women enslaved in brothels everywhere–not just India. Pray that God will send people to help them discover hope, free them, save the madams, protect the children who live there and lie under the beds while their mothers work, knowing their life will probably turn out the same.
Pray for income to help build more homes of hope, supplies to take care of them when they're rescued. Pray for healing–mind, body, and heart. Ask that God would grant these missionaries, who are preaching the gospel, for favor among government officials, brothel owners, and madams. And pray however God would lead you.
"…when a believing person prays, great things happen…" James 5:16 NCV
There are other ways you can help, though prayer is the most important. Another is through a ministry in conjunction with Project Rescue. It's called The Jubilee Market. They help women and girls rescued out of slavery in India learn a trade to help them economically. For Christmas, my husband bought me a beautiful silk, sling purse. Inside, on the tag, the girl who made my purse had sewn her name. Every time I carry that purse. I pray for her.
Mother's Day is coming up this weekend! You can get your orders in standard business shipping time.(It might come a little late, but even so…) Pray about it. Wouldn't this be a wonderful way to remember to pray and purchase gifts with purpose? A bonding time for you and your daughter—who lies safely in her bed, her innocence in tact. Probably unaware, as children should be, that there really are boogey-men out there. 
You may read this blog regularly and never leave a comment. Today, if you would…please at least leave the comment "prayed" and encourage me! Imagine a 100 comments that all say "prayed." That would amazing!
Today we won't be just In the Word Wednesday–hearers of the word. Today, we will be doers of the word.
"Then you will call upon Me and go and pray to Me, and I will listen to you." Jeremiah 29:12
* Robin Caroll wrote a book dealing with human trafficking called Deliver Us From Evil. I am reading it right now. I'll review it when I'm finished.