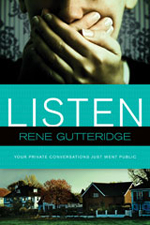 "We humans can tame animals, birds, reptiles, and fish, but no one can tame the tongue."
Rene Gutteridge tackles the tongue and the effects of words in her novel, Listen. It begins intense, with a teenage girl hanging herself over words that have hurt her.
It covers the life of a decent sized town probably a lot like the one you live in. Gossip runs rampant, and someone starts posting private conversations on the internet for everyone to see. Fights break out, friends grow apart, and someone goes so far as to murder another.
What's interesting is the gossip is mostly taking place by those who confess to be Christians. The sad truth is, slander and gossip does race like wildfire in our church. I've been on both ends. I bet you if you're truthful, you could say the same.
What spoke to me the most?
The question is asked, Is what we say when we are in private okay? Kinda of like when the tree falls in the forest. If no one hears it, does it make a sound?
There are things I'll say to my husband and my best friend that I wouldn't share with the ladies at the salon, but what if those words got on to the internet? Then how would I feel?
It's true– the power of life and death in the tongue. I don't mean "name it and claim" prosperity preaching. I mean lifting and encouraging to bring life to someone's heart and cutting them into worthless bits inside– breeding death.
It's definitely opened my eyes to what I'm saying and who I'm saying it too.
Do I recommend the book?
Yes! Not only was the message deep and powerful, but her dialogue was witty and entertaining. The storyline was believable and interesting.
Here's a teaser:
"Someone is listening…
The quaint, close-knit community of Marlo was the ideal place to live…until someone started posting private conversations online for everyone to read, word-for-word. Now it's neighbor against neighbor, friend against friend, as careless comments and hurtful accusations turn the town upside down. Violence and paranoia escalate, and the police scramble to find the person responsible before more people get hurt, or even killed.
But what responsibility do the residents of Marlo have for the words they say when they think no one is listening?"
What do you think? Does what you say in private effect others? Or is it okay to to say whatever you like about someone as long as they can't hear you? I'm interested to hear your thoughts!
Also, I'll be interviewed tonight at 4 pm Pacific time at Romance Writer's on the Journey! Stop by and say hi. I'm giving away a $10 Starbucks card, so leave me a comment to enter for a free drink to sip on while you read your favorite book!