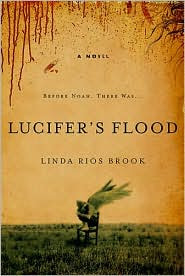 "Between Genesis 1:1 and 1:2 lies an untold story of war in the heavens…"
A book that still stays fresh in my mind. Lucifer's Flood was a book I happened upon at the bookstore before going to the beach on vacation in 2008.
Linda Rios Brook states up front that the book is purely fiction, but it's based on the "what if" question that many of us authors ask before writing a story.
What if Lucifer's Fall came between Genesis 1:1 and 1:2– known as The Gap Theory?
I love how Linda weaved real biblical truths and scripture into her fictional story. It was a glorious picture of redemption through the eyes of an unlikely protagonist. A demon.
Many times we hear, "That was a page turner." "I couldn't put it down." Those statements hold truth in Linda's book! I highlighted several passages, something I've never done in fiction before. Linda's take on the fall of Lucifer, the creation, and the plan of redemption is not only a beautiful picture, but a powerful reminder that we belong to God and His love for us is truly amazing.
While Linda's book raises some interesting theological questions, it doesn't hinder a wonderfully entertaining story. Her humor is delightful, her writing passionate, and her imagination–vivid. Many times, she gave me chills and I had to simply stop and meditate on His beauty and relentless love, through tears of gratefulness.
She has three more books following this one in her Demon Diaries series. The Deliverer, The King and The Redeemer (May 2011). I'm waiting on the last one! I've read them all so far. While they are all good, Lucifer's Flood is my personal favorite!
Whether you believe the Gap Theory, or not, or have no idea even what it is–doesn't matter. This book has stuck with me long after other fictional tales have become dim memories.
I recommend it highly! Here's a teaser.
"Between Genesis 1:1 and 1:2 lies an untold story of war in the heavens. Hear a chronicle of cosmic rebellion and its devastating aftermath from the perspective of a fallen angel! Dreading his coming judgment, one former servant of heaven recounts his wavering conviction—-and how he realized too late his mistake in siding with Lucifer."
Feel free to drop back by and tell me how you felt after reading it!