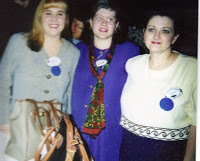 Lisa Boyd far right at an Academy event
Today's GUEST blog is from Lisa M. Boyd, my mentor and friend!
My name is Lisa Boyd.  I am married and have 2 grown children and 3 grandchildren. I worked in the childcare industry for 27 years at all levels.  I loved being a teacher.  Everyday was different and never boring.  I usually learned more from them than they did from me.  The number one lesson we can learn from children in that of forgiveness.  If someone wrongs them, they get mad and they get over it. If  it could only be so with adults. In the latter years I was a Director, which was a whole new ballgame of challenges. Not only did I have to deal with children, but now their parents and caregivers. There are things that drove me crazy at times but I wouldn't change many things that happened over the years. The largest lesson I learned in all my years was that to really be successful in life we should do as Christ instructed, "you must become as a little child.
What to Expect on Your Child's First Day 
It is wise to allow an extra 30 minutes at drop off time on your child's first day at preschool.  Upon arriving at the center or home, you and your child  should be greeted by the Director or another designated member of management. They should walk you through the drop off and pickup procedures for your childs age group.
 There should be happy noises in the morning,usually breakfast or snack may be occurring.   You should then be escorted to where your child will be at that time of the day. Take into consideration that preschoolers are often grouped together in early morning and late afternoons.  Infants and toddlers should never be grouped with older children.
Upon arriving at your childs classroom, you and your child should be greeted by the caregiver. At this time you will be shown where to place your childs belongings.(their name tag should already be in place)The caregiver should ask for any written instructions (generally for Infants and young toddlers) or any verbal instructions for the day.  A good caregiver will jot down the verbal to pass on to the next shift. 
Your child should be led to the group and introduced to the other children and led into the activity occuring at the time. It is always best to tell your child goodbye, never sneak away or your child may feel abandoned. You should expect a call from the Director sometime in the morning to let you know how things are going and the activities that occurred that morning.  The main caregiver should also give you a call after lunch. Be sure to call yourself anytime, it is just as hard on parents as it is on children when leaving each other for the first time.
At the end of the day, you should receive some type of progress report from your child's caregiver.  Infants , toddlers and 2 yrs olds  should receive some type of care provided sheet to let you know about diapering and feeding times.  The main caregiver should write you a personal note about your child's first day. 
The Director should be available to answer any questions or concerns you may have about your child's first day.  We also must keep in mind that some times there is an adjustment period for some children. They may cry or have a tantrum depending on their age, but these go away in time. In all my years as a child care worker/Director , I never saw a child who did not adapt.