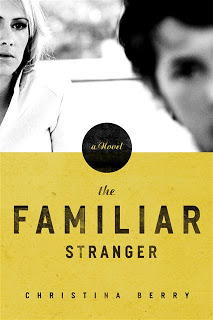 What if your spouse was keeping dark secrets? What if a tragic accident brought them all out into light? Could you forgive him or her?
I found Christina Berry's debut novel, the Familiar Stranger, when hunting down books comparable to mine. This is a superb story about a woman coming to grips with her husband's hidden past. It was one of those books that I couldn't put down, and didn't. I read it in one sitting!
I loved how she switched from the husband's perspective to the wife's. The surprises just kept coming! When you think you have it figured out–she proves you wrong!
I encourage you to pick up your copy or give it as a gift! Discussion questions for book groups are in the back and if you would like to have Christina on conference call at your discussion, you can contact her at the link provided! I've had the opportunity to chat with her by email a few times and I can tell you that talking to her over the phone would be insightful, fun, and inspiring!
Here's a teaser from the back cover:
Craig Littleton's decision to end his marriage would shock his wife, Denise … if she knew what he was up to. When an accident lands Craig in the ICU, with fuzzy memories of his own life and plans, Denise rushes to his side, ready to care for him.


They embark on a quest to help Craig remember who he is and, in the process, discover dark secrets. What will she do when she realizes he's not the man she thought he was? Is this trauma a blessing in disguise, a chance for a fresh start? Or will his secrets destroy the life they built together?
For a limited time–until December 7th, you can get this book autographed by Christina! What a great Christmas gift for yourself or someone else!