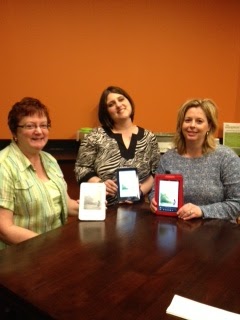 Thanks, Katie, for being here all week–although you're really in Africa. 🙂 This past Monday, the Faith Readers book club got together for delicious vanilla and chocolate swirled cupcakes with chocolate icing and I made the homemade peppermint hot chocolate, which is a fave in Robin's cafe from the book. You can get the recipe on Katie's book club page along with discussion questions. We missed several who couldn't be there and I know they missed us, you did didn't you?
We had a short devo from on of our ladies and then we drank the deliciousness and enjoyed the yummy cupcakes while discussing the book. Katie skyped with us about her debut novel, but since she couldn't be with us this time, she prepared a video for us to watch! How cool is Katie? Yeah. I think she's that cool too.
So here's what we said:
"I liked it better than Wildflowers from Winter."
"I liked Wildflowers better."
"As a single mom for the whole time, I wanted to tell Robin, 'Suck it up!'"
"I was emotionally engaged because I have a son and I saw myself in Robin–I say some of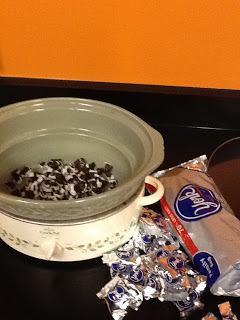 This takes an entire bag of
Peppermint Patties! Uh, delish!
those same things and my son played with those same toys."
"I loved the first person vignettes. It helped me relate more to Robin."
"I loved when she tossed her ring in the pond! That's something I would do. And then regret it later."
"I think it would be hard to give up a dream you shared with your spouse."
"God has other plans. They're always good even if it doesn't feel like it at the time. I can relate to that." (So could everyone else.)
"I'll read more of Katie's books." (Everyone agreed on that too)
Out of 5 stars.
Rating: 4
What are you reading this weekend?
Here's a sneak peek:
Does a second chance at life and love always involve surrender?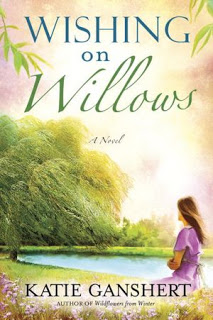 A three-year old son, a struggling café, and fading memories are all Robin Price has left of her late husband. As the proud owner of Willow Tree Café in small town Peaks, Iowa, she pours her heart into every muffin she bakes and espresso she pulls, thankful for the sense of purpose and community the work provides.
So when developer Ian McKay shows up in Peaks with plans to build condos where her café and a vital town ministry are located, she isn't about to let go without a fight.
As stubborn as he is handsome, Ian won't give up easily. His family's business depends on his success in Peaks. But as Ian pushes to seal the deal, he wonders if he has met his match. Robin's gracious spirit threatens to undo his resolve, especially when he discovers the beautiful widow harbors a grief that resonates with his own.
With polarized opinions forming all over town, business becomes unavoidably personal and Robin and Ian must decide whether to cling to the familiar or surrender their plans to the God of Second Chances.