Have you ever wondered what it may have been like for our Savior as He grew from an infant into a Man? I've always dreamed about that night, the night he received three special gifts…
The star shone bright in the East as the three men traveled in expectation to see the young Child –the King of all Kings. Their journey was long and stressful, as they had to be careful, for Herod the great earthly king desired to see the young babe slaughtered, unable to grow and usurp his throne.
They came upon an ordinary home, but it had to be the one; the star bathed it in light. The sleepy town of Bethlehem didn't seem to notice they'd arrived. They knocked on the door of Joseph and his wife Mary. The door opened, the man's curious eyes studying them.
"May we come in," the man standing in the middle asked. "We've come to worship the Child." The other men craned their necks to see inside, to simply get a first glimpse.
As Joseph opened the door for the men to enter, they saw the young child sitting on His mother, Mary's lap.
How precious.
His raven locks covered His head like a cap of soft feathers and his rosy cheeks glowed with delight in seeing visitors. His eyes, that matched his hair, were round and wide with wonder as the men reverently entered the home.
Mary put her Son down and stood as the men of wisdom came before her. The toddler clutched his mother's tunic with His tiny, chubby hands and peered at the men from behind her. She smiled gently and spoke to the babe. "Come, Yeshua, you have guests. It's okay." She urged her Child to let go of her; He was barely two.
The men knelt and continued to stare in awe. Their lips trembled , their throats tightened as they tried to suppress sobs of joy.
How beautiful.
The same man who had asked to come in the home spoke worshipfully. "We've brought You gifts, look!" Two of the men opened their gifts before the little King and chuckled as the small baby boy clapped His hands in delight. The boxes alone were stunning and His eyes flickered with joy.
"Go ahead, Yeshua, see Your gifts," Mary said.
The baby Lord toddled closer to the men, looking each of them in the eye, causing their hands to tremble, as if He was looking right into their hearts. The larger man of the three took from his box a crystal bottle, expensive and exquisite. He carefully took the lid from it and motioned for the tiny Boy to come.
"This is frankincense. Can You say frankincense?"
Yeshua only smiled, showing all eight of His perfect little new teeth.
"Smell it! It smells good." He held the bottle of oil out for the Messiah. Yeshua leaned in and instead of sucking in through His nose, He blew out, like all little ones do when learning to smell.
The room's silence was broken in laughter and the King looked about and squealed with laughter as well.
"He enjoys being the center of attention. You've just made His day." Mary shook her head and smiled at her Firstborn.
Yeshua turned His attention to the smallest man, the quietest of the three. He toddled over to Him, His balance still unsteady from only learning to walk, and looked into his box again. It shone with brilliance. "Gold, Child. For You."
He gazed at the gold, touched it, and then looked at the man with earnest eyes. "Pretty," He said and He touched the man's hand; it trembled under the small Child's and a tear rolled down his cheek.
With puckered lips, the Child inched toward the man's face, as if to kiss his tears away. The wise man flinched when his tiny hand caressed his cheek. Confusion filled the wonder on his face and Mary picked her Son up.
"I'm sorry. He saw you cry and wanted to kiss you. He's a very tenderhearted Child." She kissed her Babe's nose. "Beloved, not everyone wants a kiss."
The Baby turned his lips down, a few silent tears streamed down His face; as if the rejection broke His little Baby heart.
"Wait, I would love nothing more. It's just, His touch…I can't explain it. I felt—something…"
Understanding brimmed her eyes and she beamed. "He has that effect on all of us. Just a touch is all it seems to take."
She put her Son down and He toddled over to the man, his balance not quite perfected. He placed his palm on the man's face and kissed his cheek. The wise man tousled His hair and wiped another tear away.
"We appreciate you bringing our Son these gifts. May your travels home be blessed and safe." Joseph held the door as the men started to file out.
"Wait!" Mary called out after them. She picked up her Son and brought Him to the door.
"Yeshua, what do you tell the nice men for bringing you presents?"
He clapped His hands and wiggled with joy in her arms. After blinking a few times, he stretched His hands out to His sides, showing them how much He loved them and their gifts—identical to the way He would stretch His hands out to show His love for us, as He hung on the cross—as a Man yet fully God.
"Thank you."
Mary nodded with approval at her Son for being polite. They waved the men good bye and gave their own thanks to God the Father for supplying them with all their needs, in most unexpected ways.
"For unto us a Child is born, unto us a Son is given; And the government will be upon His shoulder. And His name will be called Wonderful, Counselor, Mighty God, Everlasting Father, Prince of Peace." Isaiah 9:6
He's not a baby anymore, but He still desires to touch you. He still desires to be the center of attention. He still delights in the gifts you bring Him. The greatest gift you can give Him this season is yourself.
*This is a fictional story based on biblical truth.
Hoping your holidays are Christ-filled!
Tell me, what was your favorite gift you received as a child?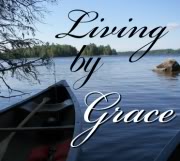 I'm hosting at
Living By Grace
today! Come by and tell me how you plan to give yourself as a gift to Jesus this upcoming year!