Ok, so I don't really know why I titled my post this way, I mean, I am a winner, but there really is no chicken dinner involved and it's not about casinos and gambling. I may have possibly watched the movie 21 too many times. Whatever.
I did win an award! That makes me a winner! (and Charlie Sheen)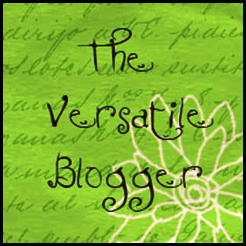 Thank you, Marji Laine, for awarding me the Versatile blogger award. Marji has a cool blog and she blows me away with posting EVERY SINGLE DAY! Wow!


So here's how this is supposed to work:


1. List 7 things that folks might not know about you. "Folks" are people, btw.


2. Pass the award on to 7 new bloggers and let them know.


3. Thank the blogger who gave it to you. (Thanks, Marji, again!)




I already have 10 things you may not know about me at the top of my page. You can click the link to read them. But I figured, I'd do 7 more, from the wonder years, just for fun.


1. My first intro to "romance" was in kindergarten. On graduation day, one of my classmates brought me roses. I never was his girlfriend–his first intro to rejection. I kept the flowers.


2. On trips to the bathroom, in school, I would walk down the halls and slip into the janitor's closet, pretending that I was in a scary story/film. Later I entered the janitor's closets for completely different reasons. Get your mind out of the gutter, I needed a mop for the biology teacher.


3. I was asked by our high school principle to organize, choose, and direct the school play. He even gave me my own assembly. During my appeal to artists (lol) my ex-boyfriend spit ice chips at me from the first row of bleachers with a smug grin on his face ( and he wondered why I declined him a second chance…right away…He was after star power, of course). The play flopped and never hit the stage, but I was stellar while it lasted. *Our principal also kept a bottle of Jim Bean in his office drawer, he may have dipped into it before asking me. (And how I know that is another story)


4. I've seen New Kids on the Block 4 times. At one outdoor concert, I thought the "mascots" wandering around the fair were actually the New Kids dressed up. I went up to one and told him I knew who he really was and my friend took our picture. It was not a New Kid. But I have the picture anyway. That was the night I hit an owl with my car. Yes, their heads do turn all the way around.


5. I had a crush on my sixth grade teacher, knowing he wore a toupee. What? You can't help who you fall in love with! It looked real!


6. In 8th grade, I tried out for cheerleading. At that time, the students voted. I couldn't do a back-bend, so I laid on the gym floor and did the the whole push up thing. Somehow, I made the team. When I think of that, my stomach knots. I was too stupid to be embarrassed then.


7. I rode a dirt bike and was pretty stinking awesome at it. Although, one summer while my friend was on back, I tried to show out in front of guy who was playing basketball in his driveway (he was a freshman in college, we were freshmen in high school) and wrecked in front of his house (stupid loose gravel). His mom was a nurse and made us come inside for bandaids and Neosporin. Never again. But the palms of my hands knees healed nicely.


The real question is, why don't I write YA?


And now, in no particular order, I am sending this award on to bloggers I feel are versatile. They have loads to offer, make me laugh, and write about a variety of things such as parenting, devotions, missionary travels,writing, randomness, and so forth!


Ladies, you don't have to pay it forward, but I wanted to send the award your way, regardless!


1. Sheri Salatin at Farming with heart, writing with passion, loving with joy
2. Katie Ganshert on life and writing and the fuzzy line in between
3. Maggie Fechner at Mommy's Always Write
4. Stacy Green at Turning the page
5. Heather Sunseri at Balance with Purpose
6. Dawn Alexander at Writing in Waiting
7. Jodie Bailey faith and fiction with a touch of southern grace
Have a great weekend, everyone!
Question (or command?): Tell me one thing about your wonder years I don't know!