Hey everyone! It's been awhile. How are you? What have you been up to? I'd love to hear in the comments. I'm gearing up to do something new. It's called Forward Fridays. Each Friday, I'll share a small devotion, a forward-thinking challenge, and a forward prayer with you. Because let's be honest, no one should be moving backward spiritually! So let's get on it with it, shall we?
"Sshh! My Mom or Dad might hear." Ever tell someone that growing up? I did. I can also remember watching my mouth at church, in front of my grandma, and around my parents. But away from them, the things I said weren't always pretty.
My parents had standards on what kind of talk could come from our mouths and when it was anything but acceptable, we knew! I can't remember ever having soap shoved in between my gums, but I bet some of you may have.
This morning I was reading Ephesians 5:3-5: "…Though some tongues just love the taste of gossip, those who follow Jesus have better uses for language than that. Don't talk dirty or silly. That kind of talk doesn't fit our style…" MSG
In the NKJV, the word is "foolish talk" and I had to wonder exactly what is foolish talk, because I can say all sorts of ridiculous things. So I headed to find the Greek word. It's mōrologia and it comes from a compound word made up of: mōros which means impious (irreverent or godless) and legō (this has nothing to do with those tiny plastic devil-made toys that kill your feet in the night) which means to point out with words, to intend, to speak, to call…
Not too long ago, my daughter facetimed a friend while I was in the room. The minute her friend answered, my daughter yelled, "My mom is here. My mom is here!" She didn't even lead in with, "Hey."
The Lord reminded me of this scenario this morning and His words to my heart were: She didn't want you to be offended by what her friend might say. She respects you. But I still hear. I'm still offended. And my heart wept. Because I'm guilty of this. I might say something in front of one person that I wouldn't say in front of another. But God still hears. And it still might offend Him! It still might disrespect Him. Maybe you're guilty of this too.
The good news is, God's mercy is new every morning (Lamentations 3:22-23). He's not holding a grudge and planning on smiting us for being irreverent or disrespectful. But He is offering grace and He does expect us to get ahold of ourselves, repent and not do it again. Grace isn't tolerance. Grace isn't a license to keep sinning. It's a humbling reason to repent and honor God.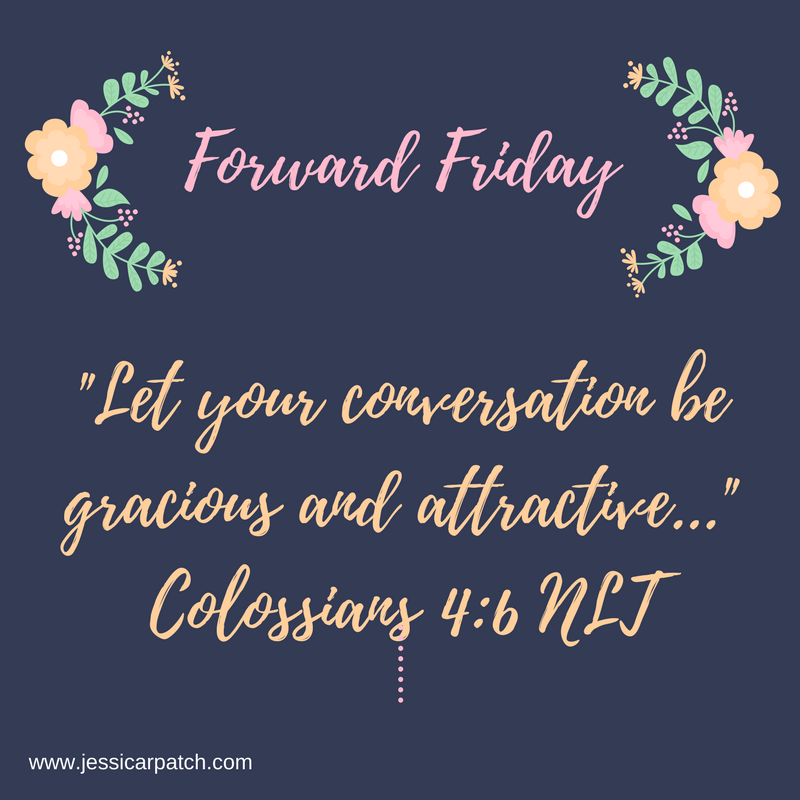 Forward Friday Challenge: The challenge to myself and to you this morning is to be consistent in your speech. If you wouldn't gossip, make a snide comment, tell an inappropriate joke in front of say a pastor or a particular friend who might be offended, then don't say it to anyone. Because either way, God hears and let's honor Him. Be reverent.
Forward Prayer: Lord, you are worthy to be revered and glorified. Help us through the power of your Holy Spirit to think before we speak and that what we say is always respectful to You.
Forward Scripture: "…Though some tongues just love the taste of gossip, those who follow Jesus have better uses for language than that. Don't talk dirty or silly. That kind of talk doesn't fit our style. Thanksgiving is our dialect." Ephesians 5:3-5 MSG