Last month our book club read a medical drama. Out of the five choices, we picked
Code Triage
–the 3rd book in the Mercy Hospital series! You can read our review
HERE!
I emailed Candace to tell her how much I personally enjoyed the book and she offered to not only skype with us, but to send us bookmarks and host a drawing on the night of our meeting! She's lovely, witty, charming and a fabulous author! So I'm honored to have her here today!
Candace is a former ER nurse who believes love,
laughter and faith are the best medicines. Her Mercy Hospital and Grace Medical
series offer readers a chance to "scrub in" on the exciting world of emergency
medicine—along with a soul-soothing prescription for hope. Wife, mother, and
very proud grandmother, she makes her home in northern California.
JP: How
long were you in the medical field before you decided to write medical dramas?
CC: As Cha Cha (the parrot) in Code Triage likes to say: "Forever." I was an ER nurse for more than three
decades, and began writing seriously (for publication) in around the year 2000. I caught an agent's eye (Natasha Kern) and
signed with her in 2002—but didn't begin to write medical drama until a few
years later. We contracted with Tyndale House (for the Mercy series) in 2008.
JP: Do
you use real-life ER experiences you've had in your novels?
CC: Oh, absolutely.
Many of the dramatic (and humorous) scenes in my stories had beginnings
in my "scrubs" days. I'm sure that's
what makes readers say they feel like they are "dropped into the middle of the
ER." But my depictions of medical cases,
patients, and staff are fictional composites in order to protect privacy, of
course. Though my husband is quite
certain that every hero is purely based on him.
JP:
LOL! My husband seems to think the same thing. Your novels have been compared
to Grey's Anatomy, but with faith elements. That show is super popular. Have
you seen a spike in sales since the comparison? I watched ER, but I've never
seen Grey's.
CC: When we pitched the idea for my medical fiction to the
publishing house, we did indeed describe it as "Grey's Anatomy finds its soul."
It was something fairly new to the
inspirational market. And after three encouraging years, I think we'd all agree
that the popularity of TV medical programs really does carry over into
print. I have quite a few readers who
first picked up my books because they were sad to see the series "ER" end—or
because they are now fans of "Grey's Anatomy," or "House." In addition, many of my readers are employed
in the medical, fire, rescue and law enforcement fields. I'm honored by their enthusiasm. I love being able to infuse faith into
medical drama; in real life, it's always been there. But mostly, I'm delighted
when folks call me the author of "medical hope opera." That's as close as it gets.
JP: I've
always been a fan of medical dramas and books. I'm a huge fan of yours now,
Candace! If you could put one of your books on the big screen which one would
it be and why?
CC: Interesting question. Probably my current release, Trauma Plan. It's set in San Antonio
during Fiesta, with colorful scenes down on River Walk, at the Alamo, in the
charming Texas hill country towns of Boerne, Fredricksburg . . . and on the
famous dance floor at Luckenbach. Cinematographically,
it would be a feast for the senses:
especially the breath-catching skydiving moments! But the characters are richly drawn as well:
a "maverick" doctor, a beautiful and determined nurse-chaplain . . . along with
a big-hearted rodeo clown and his crippled doggy sidekick, "Hobo." The plot has a lot of action, warm romance,
and tear or two— elements perfect with buttered popcorn.
JP:
Ooooh that does sound wonderful! And
lucky me I have it sitting on my desk to read! Okay, now a few fun questions!
What do you like to do for entertainment?
CC: Hubby and I love to hike, birdwatch, and are in love
with travel: simple day trips to glorious nearby destinations like Lake Tahoe,
San Francisco, Napa wine country, or the Pacific coast (all settings for the
Mercy Hospital series). Our grander journeys have found me swimming with
stingrays in the Caribbean, hiking an Alaskan rainforest, atop a camel at the
pyramids, kissing the Blarney Stone in Ireland . . . and gazing in awe at the
ceiling of the Sistine Chapel. We've
worn out some luggage.
JP:
That all sounds so perfect! Would you fit me in your suitcase? J Fill in the blanks: If I had a weekend
with no obligations and I could go anywhere in the world, it would be:
CC: …a
spiritual place with complete solitude, a few days of peace and reflection because our everyday world is noisy and
far too hectic. And I think it's easier to hear God's voice when we step away
from all of that. "Be still and know . . ." Amen.
JP:
That's perfect, Candace! Thanks so much for taking time to come and visit with
us today.
CC: Thank you, Jessica for hosting me here. I've SO enjoyed
having this chance to connect with your readers. I'd be honored to have them "scrub
in" with my stories of hope.
Question for you? Have you ever had to go to the ER? And did you watch ER or Grey's Anatomy?
Here's a peek at her newest novel: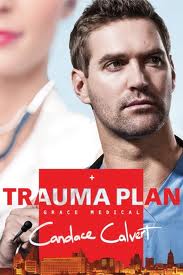 Sidelined
by injuries from a vicious assault, nurse chaplain Riley Hale is determined to
return to ER duties. But how can she show she's competent when the hospital
won't let her attempt even simple tasks? To prove herself, Riley
volunteers at a controversial urban free clinic despite her fears about the
maverick doctor in charge.
Dr.
Jack Travis defends his clinic like he's commander of the Alamo.
He'll fight the community's efforts to shut its doors, even if he must use
Riley Hale's influential family name to make it happen.
As
Riley strives to regain her skills, Jack finds that she shares his
compassion—and stirs his lonely heart. Riley senses that beneath Jack's rough
exterior is a man she can believe in. But when clinic protests escalate and
questions surface about his past,
Jack
goes into battle mode, and Riley wonders if it's dangerous to trust him with
her heart.
*You still have time to enter the contest for the Kindle Touch along with Donna Pyle's new Bible Study, The God of All Comfort (and other goodies)! Contest closes Sunday, August 19th! Check out the awesome prizes HERE and ENTER to WIN!