If you were an 80s
child, you're now going to be singing Frankie Goes To Hollywood all day, or
referencing Friends. Die-hard fans of the show know exactly what I'm talking
about!
On Monday we mused
and meditated on Exodus 14:13-14. This past week, I had a terrible few days of
fear. A fear of failing in a certain area of my life (no, it wasn't
writing–for once). I've been circling a mountain, so to speak, that I can't
seem to get victory in. Surely, I am not alone.
These verses means so
much to me.
In context, He was
talking to the Israelites. His chosen people. The ones He went into covenant
with. They were leaving Egypt, which represents bondage; slavery. And
also…Egypt. Ha! God had judged the nation and its gods with 10 plagues.
Fascinating stuff.
On their way out,
Pharaoh decided to come after them. He brought all his army, horses and
chariots, with every intention of enslaving them again. Victory would not be
theirs.
"Some trust in chariots and some in horses, but
we trust in the
name of the Lord our God."
Psalm 20:7
The people shook in
their
boots
sandals. They said to Moses,
"Didn't we say to you, 'leave us alone; let us serve the Egyptians'?
Better for us to serve the Egyptians than die in the desert!"
Wow! They would
rather go back to affliction, pain, slavery, bondage, and misery than trust
God. Ultimately, that's what they were saying. God had no intentions of leading
them out to let the enemy slaughter them.
He
has no intention of leading you out of whatever you may be enslaved to, only to
let the enemy defeat you when you get a taste of freedom.
Then the LORD speaks
and that's where our verse starts.
Let's look at our key words: Stand firm, deliverance, fight, be
still
Stand firm in the
KJV is "stand still" and in the Hebrew, the word is
"yatsab" which means, "to station oneself or to present
oneself."
 Now this next little
ditty is interesting. The word is deliverance. In the KJV, it's salvation.
Let's take a good look at it in the Hebrew, because I want to show you
something super fascinating!
In the Hebrew, that
word deliverance or salvation is "yĕshuw`ah" Say it
out loud. Does it remind you of another word you may have heard in the Hebrew?
You
guessed right. (I'm giving you the benefit of the doubt!)
Jesus. In Hebrew. Yĕhowshuwa`
You may not be able
to read Hebrew, but can you see the similarities? Why do they sound so similar?  Because the name Jesus comes from two Hebrew
root words.
Yĕhovah meaning, Jehovah–the existing One.
The proper name of the one true God. And the other root word is yasha` which means, to save, to be saved, be
delivered!
We may
not be facing the literal Red Sea or the Egyptian army. If so, I'd really like
to hear your story, but we do face impossible obstacles and sins that hold us
captive. Sometimes we call those sins bad habits or social faux paus. But they
are sin. Maybe we can't get a grip on our anger, bitterness, lewd tongue,
gossiping mouths, selfishness, pride, the list goes on.
So we could say: " The LORD says, 'Don't be afraid of the
obstacles or the bondage in your life. Present yourself to Me and see Jesus
Christ work in your life today to set you free.'"
But
we're not done yet!
"The
Egyptians (sin; bondage) you see today you will never see again." () mine.
God is going to not only set you a little free. He's going to set you all the
way free.
But how,
you may cry out? I can't do this. It's too hard. I've tried before. I've cried
out before. I'm afraid I'll fail again.
"The
LORD will fight for you…"  He will
engage in battle; make war.
"The Lord is a man of war;
The Lord is His name." Exodus 15:3
You only
need to be still.
Is God
telling us that we don't have to do anything?
Yes and
no.
No, we
don't have to worry and try to take matters into our own hands. No we don't
have to fight the battle in our own strength, which so many times we do, even
when we think we're not.
Yes, we
have a part.  God said, "stand firm" for one thing. Okay, how?
"…because it is by faith you stand firm."
2 Corinthians 1:24 When you engage your faith, you stand firm. That's how you
fight.
"Be on your guard; stand firm in the faith; be courageous; be strong." 1 Corinthians 16:3
"Resist
him, standing firm in the faith…" 1
Peter 5:9 (him = enemy)
Look at the verse in
the New Century Version:
"Don't
be afraid! Stand still and you will see the Lord save you today. You will
never see these Egyptians again after today. You only need to remain calm; the
Lord will fight for you." Not do nothing, just…
Remain calm. 
So we could say: " The LORD says, 'Don't be afraid of
the obstacles or the bondage in your life. Present yourself to Me and see Jesus
Christ work in your life today to set you free.' I'm going to wipe out that sin
in your life. I'm a skilled fighter. And I fight for you. Remain calm, have
faith. Put on your armor, and know that I AM."
Relax. Don't do it! Don't wig out and
take matters into your own hands or flip out so bad you buckle your knees and
give up. So many times the Israelites did that and it always cost them. It'll
cost you. It'll cost me too.
What
part of this verse brings you most comfort? I love the whole verse, but
"The LORD will fight for you" really gives me goosebumps in a warm,
delicious way. 
*I normally don't post on Thursdays but tomorrow I am thrilled to have Jordyn Redwood in the house and she's talking about a deadly poison. Stop by because the medical facts are intriguing to say the least!
*And Friday will conclude our Real-Life Romance series with Gabrielle Meyer!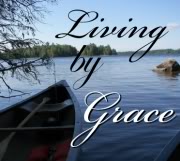 I'm hosting today! "Like" our
Living by Grace facebook page1
Devotionals for each day!