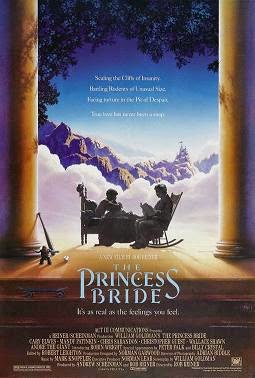 Welcome back, everyone! Today we are wrapping up our
Princess Bride series. I hope it's been as much fun for you as it has for me. Who
knows, maybe I'll come back in January for three extra bonus devotionals! We'll
see.
Today's clip could go in any number of ways, as they are
heading toward the Cliffs of Insanity! Ever felt like you're destination stop
is careening into the same place? I know I have.
Let's watch the clip first!
A pretty short clip. But packed with a lot of good stuff.
One of my favorite lines (out of so many favorite lines) is Inigo's right here.
"Wonder if he's using the same wind we are using."
Vizzini says, "Whoever is he is he's too late."
Out of nowhere, this man (Westley) begins tracking them
down. Why? He's after his true love and no one, NO ONE, is going to stop him
from getting to her. He has every intention of saving her from death, from the
clutches of the enemy.
"This is how much God
loved the world: He gave his Son, his one and only Son. And this is why: so
that no one need be destroyed; by believing in him, anyone can have a whole and
lasting life. God didn't go to all the trouble of sending his Son merely to point
an accusing finger, telling the world how bad it was. He came to help, to put
the world right again. Anyone who trusts in him is acquitted; anyone who
refuses to trust him has long since been under the death sentence without
knowing it. And why? Because of that person's failure to believe in the
one-of-a-kind Son of God when introduced to him." John 3:16 MSG
That's some serious love. That's some serious rescuing. But
look at how much time passed from Genesis Chapter 3, when sin entered the world
and the curse came into place until Christ came and died.
It was a looooooooooooooooooong stretch of time.
In this clip, Inigo wonders if they are using the same wind.
As time seems to be running out for them, but the ship behind (Westley!) is
gaining.
Waiting is hard.
Wherever your destination is, whatever you're working toward…time
is involved.
But God is never late. He can use the same wind to move
fast, while slowing you down at the same time. That's God!
Time is never fleeting in God's kingdom. Time is always
moving toward something. "Then the time came to pass." "It came time for…"
"Use
all your skill to put me together; I wait to see your finished product." Psalm 25:21 MSG
God is
not bound by time. But He uses it.
We live in a "now" culture. Fast food. Self-check out so we
don't have to stand in line. We text and expect immediate responses and when we
don't get them, we wonder if we've lost a friend! We can Google anything and have information at
our fingertips in a flash. There's an
app for everything.
Except for God.
God is not an app. He moves at a pace He feels best for what
is going on in our lives. It can be frustrating, disappointing, and
aggravating.
Or it can be joyful, peaceful, hopeful.
My choice. Your choice. We can learn. Mature. Grow. Lean.
Trust. Acknowledge. Pray. Study. Hope.
And when time comes to pass. When His timing is perfected.
It won't be late. It'll be the sweetest. We'll have no regrets.
The answer yes. He is using the same wind we are using. He
controls it. Because He's sovereign.
And the answer is no. He's never, ever too late.
You may feel like you're lost to the Cliffs of Insanity, but
I assure you, you are not.
Thank you for joining me for this SIX WEEK series! If you've
missed any, you can catch up!
What
do you do when you're anxious over waiting?
***Have you signed up for the Patched In Newsletter and entered to win a $20 Amazon card? No? CLICK HERE!