Thanks for playing. The contest is now closed and the winner has been notified. For those of you who guessed if Melanie's excerpt below was a "kiss or miss" it was a MISS! I'm going to call it a miss!
Parker really wants to kiss her and brushes a whisper of a kiss on her cheek, but he walks away when he wants to give her a true kiss. Instead, he lets her have the space she wanted – or at least she thinks she wants!
Welcome to the "Kiss or Miss" Scavenger Hunt.
I am so glad you've stopped by today to play along. Today is stop #6, but you can journey through all eight stops, following the order in the schedule. Each stop will include two or three clue words in red. Collect them all and enter to win our grand prize at the final stop on February 17th on Crystal's site.
Along each stop, you'll get to meet an awesome author friend, read a super fun excerpt from one of their favorite kiss-or-miss scenes, and enter some sweet giveaways.
Here Are the Deets:
Scavenger Hunt Schedule: February 13th through the 17th.
Once you have all the words, arrange them in order to complete the mystery quote and enter it at the final stop of the event on Crystal's site, 2/17.
Grand Prize: A paperback from each participating author, as shown in the image below.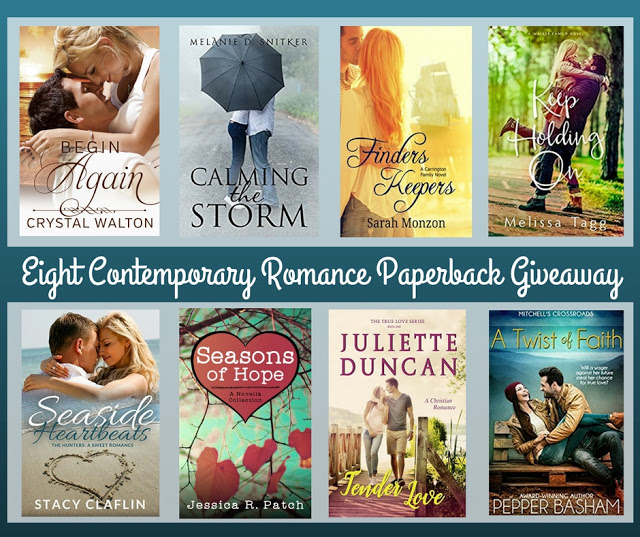 Ready to Dive in? Follow the blog hop order below:
Stop 1 – 2/13/17: Crystal's blog, featuring Pepper Basham
Stop 2 – 2/13/17: Pepper's blog, featuring Stacy Claflin
Stop 3 – 2/14/17: Stacy's blog, featuring Juliette Duncan
Stop 4 – 2/14/17: Juliette's blog, featuring Sarah Monzon
Stop 5 – 2/15/17: Sarah's blog, featuring Jessica Patch
Stop 6 – 2/15/17: Jessica's blog, featuring Melanie Snitker
Stop 7 – 2/16/17: Melanie's blog, featuring Melissa Tagg
Stop 8 – 2/16/17: Melissa's blog, featuring Crystal Walton
Stop 9 – 2/17/17: Crystal's blog, final entry
Stop #6 Featuring Melanie Snitker Thanks so much, Melanie, for being here today. I'm stoked for everyone to read your Kiss or Miss scene!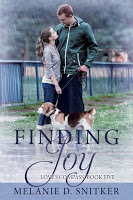 Thank
you so much, Jessica, for hosting me on your blog today! I'm looking forward to
sharing more about my new release, Finding Joy.
Sometimes, what looks like a dead end, is
really a new beginning.
A horrific
accident changed everything for Parker Wilson. The beautiful new employee his
mom hires is the last thing he needs and he'll do whatever it takes to make the
girl quit. All he wants is to regain the peace and quiet he prefers.
Chelsea Blake
had been under the influence of her parents for ages,
but nothing short of desperation would force her to work on a local cattle
ranch. She may not be cut out for ranch life, but her determination to succeed
is stronger than her handsome employer's efforts at forcing her to leave.
Unprepared to
discover all they have in common, if they set aside their initial dislike, they
might find joy beyond measure.
Finding Joy
is available for
$0.99
through February 19th.
Click
here
to snag your
copy!
For your chance to win a digital copy of
Finding Peace
, the first
book in this series, read the excerpt below. Then vote below to enter your choice of "kiss" or "miss" in the Rafflecopter form.
A winner
will be chosen randomly on February 18th, 2017.
Excerpt from Finding Joy:
Chelsea
nodded slowly. "That makes sense. It hurts when people don't see us for who we
really are."
There
was no doubting the sadness in her eyes. "Are things still not going well with
your parents?"
She
gave a half shrug. "I don't know why it always surprises me. You'd think I'd be
used to it by now. You were right, though. My parents never knew me." She took
a long drink. "I've always been their daughter and Laurie's sister. Never
Chelsea. I'm not even sure I know who I really am."
"Well,
I do." Parker reached across the table and cradled her hand in his. Not even
the hot drink had warmed her skin after being outside. He covered it with his
other hand. "You, Chelsea Blake, are a beautiful, intelligent woman. You never
give up, no matter how many obstacles get in your way. You were willing to fly
in the face of what your parents expected of you in order to find your own
direction in this world." She was blushing furiously now, but he wasn't done.
"And you were able to single-handedly drag a grumpy man out of his misery with
a broken bottle of tea and your stubbornness."
Chelsea
laughed then and covered her face with her hands. Her eyes brimmed with tears
as she shook her head. "You're something else."
"Oh?
A good something, or a bad something?" He hiked one eyebrow at her.
"Good."
She peeked at him from beneath her lashes.
Someone
else came into the coffee shop, bringing with him a blast of cool air. As much
as Parker didn't want his time with Chelsea to end, he kept in mind the area of
town she lived in. It was nearly dark, and he'd rather she got home sooner than
later.
Chelsea
sighed and reached for her coat, apparently realizing the same thing.
Parker
escorted her to her car and held the door open. Chelsea started the engine and
cranked the heat up all the way. Instead of retreating, he waited, one hand on
the roof of the car and the other on top of the door.
She
turned toward him, lifting her chin. "Thanks for the hot chocolate."
"You're
welcome." He leaned down, his face inches from hers. "Chelsea?"
"Yeah?"
So, what do you
think? Do they kiss? Or is it a miss? Vote below to enter for
your chance to win a digital copy of Finding Peace.
About the Author: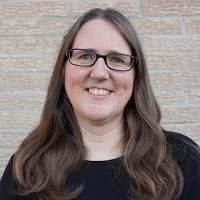 Melanie D. Snitker has enjoyed writing for as long as she can
remember. She started out creating episodes of cartoon shows that she wanted to
see as a child and her love of writing grew from there. She and her husband
live in Texas with their two children who keep their lives full of adventure,
and two dogs who a
dd a dash of mischief to the family dynamics.
In her spare time, Melanie enjoys photography, reading, crochet, baking,
archery, target shooting, learning about essential oils, and hanging out with
family and friends.
Follow Melanie:
Ready for Stop #7?
Did you collect your clue words in red above? Jot them down and hop over to Melanie's blog for the next set of clues, goodies, and more.
Great read, Melanie! Okay, everyone don't forget to go to all the blogs to find the words and enter for a chance to win! Yay!