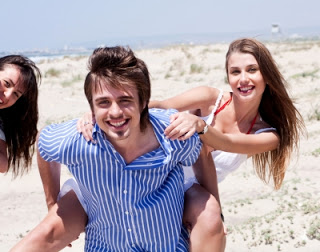 I admit it, I'm a huge fan of the love triangle. I looked back on my manuscripts–most have a triangle of some sort, which is odd since I'm all about balance. I like things even. 
But triangles have snagged me since Jessica Wakefield and Lila Fowler fought over Bruce Patman. What?! No really. It's true. In fact, that entire series had one triangle after another. It's why I adored the Vampire Diaries books (though odd at times) and the show–which is actually better. Thank you, Kevin Williamson. Like seriously. Thank you.
Fairly Legal really picked up when they brought on the oh so wonderful, Ryan Johnson, as Ben Grogan–but then it didn't get picked up. I'm still ticked over that.
I'm drawn to books, shows, and movies that have a triangle. 
I thought I'd share some of my favorite movie love triangles today.
An Affair to Remember 
 Cary Grant, Deborah Kerr, and Richard Denning. There have been several remakes of this movie, which I've seen, but I always come back to this one. She falls in love with the playboy (and who doesn't love Carey Grant), he knows he isn't good enough for her, and in the wings, a good man loves her and takes care of her after her accident, but her heart has always stayed with the playboy. My favorite story line, I think.
Sweet Home Alabama
Reese Witherspoon, Patrick Dempsey, and Josh Lucas. Torn between a really  nice, rich guy and her ex who's still in love with her. You root for the husband but you also root for the character, Andrew Hennings. It's only at the end that he realizes, he's not in love with her. Up until then, it could go either way. 
My Best Friend's Wedding
Julia Roberts, Dermot Mulroney, and Cameron Diaz. I rooted for Julia Robert's character, Julianne, to be with her best bud (played by Dermot Mulroney), Michael but in the end it didn't happen and I kinda wished Rupert Everett's character, George, hadn't been gay because I also liked him and Julianne together. 
I have several other favorites: The Princess Bride, It Happened One Night, Casablanca, Twilight Saga, The Hunger Games, The Notebook…but I can't list every single one.
What about you? Do you enjoy a good love triangle, why or why not? If so, what is one of your favorites?