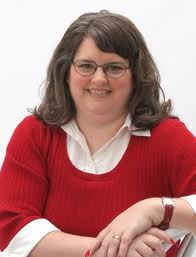 I'll start off with a secret. I've never read a Western. But I won A Bride's Portrait of Dodge City, Kansas by my friend Erica Vetsch and how could I not read it?
You know what? It was good. Really good. Another secret? I didn't realize this was where we get the phrase, "Get the heck out of Dodge." Also? I said this for days after reading it! My husband nearly told me to get the heck out of the house!
So…let's talk Erica Vetsch. She writes one of my favorite blogs. I always learn something and I always leave smiling. Her Friday Five proves we have tons in common! If you don't follow her blog, you won't regret popping over there and joining the site!
Erica is a transplanted Kansan now residing in Minnesota. She loves history and reading, and is blessed to be able to combine the two by writing historical fiction set in the American West. Whenever she's not following flights of fancy in her fictional world, she's the company bookkeeper for the family lumber business, mother of two terrific teens, wife to a man who is her total opposite and soul-mate, and avid museum patron.
JP: Minnesota? Wow that's gotta be cold right now! But enough about weather. Your novel includes real historical figures, which is so neat. How much research did you do for those people, setting, and the occupation of Addie?
EV: I did a boatload of research. I knew nothing about photography in the 1870's, so I had to start from ground zero. I also read lots of biographies of Bat Masterson and histories of Dodge City. There is so much folklore surrounding Dodge, thanks to Gunsmoke, that it was difficult to wade through what was true and what wasn't.
JP: Gunsmoke! That was in Dodge City? I droned when my dad watched that! I did NO droning when reading your book! Which character did you relate to most and why?
EV: Probably Miles, because we both want to please people and we're less than bold about sharing our faith.
JP: I could identify with him very much and I keep wanting to correct the spelling of his name! My son's name is Myles. Okay, moving on. What one thing other than writing are you passionate about?
EV: At the moment, homeschooling. I've homeschooled for many years now, and I'm down to one child at home. We're deep into his 10th grade year, geometry, biology, American Lit, etc. Also basketball which is ruling our lives at the moment. He's having a great time, and so am I, except for a serious case of bleacher-butt.
JP: OMG! I so know! Karate bleachers leave me walking like Frankenstein and trying not to cry when I stand up. It bugs. Speaking of, when did you get the writer's bug?
EV: I've always been a story-lover, reading copiously and spinning stories in my head. A few years ago, I tried my hand at writing some stories down, and I was well and truly caught. I can't imagine not writing now.
JP: Tell us your favorite line from the story and tell us why?
Spoken by Bat Masterson "…If you don't bring in the killer yourself, Miles, you'll never have the respect of this town or the cowboys who ride in here. You might as well hang up your badge and get out of Dodge." I LOVED being able to use "get out of Dodge" as originally intended.
JP: Loved that line! A lightbulb went off in my brain at that moment. Though, I added heck for some reason. LOL Name one place you'd like to go that you've never been and why?
EV: I've always wanted to visit New Zealand. When I was about 14 I discovered Essie Summers romances. They are all set in New Zealand, and I've read every one of her 51 novels. I would love to visit the settings of her stories. She was a big influence on me and my dream of wanting to be a writer.
JP: Wow! That's like me reading all of Francine Pascal's Sweet Valley High books! But not really. What genre do you like to read? Do you write that genre?
EV: I love to read historical romance and mystery and the best of both worlds for me is historical mysteries with a touch of romance. Authors like Ellis Peters, Elizabeth Peters, Anne Perry, Kathy Lynn Emerson. I would love to write more mystery, but it's so hard to keep track of all the criminals and clues!
JP: If you could pick one villain from any book to be for a day, who would you choose?
EV: Probably Moriarty because how cool would it be to match wits with Sherlock Holmes and be able to hold your own?
JP: That could possibly be the best villain pick yet. Well played, Vetsch! Since we're talking characters, who would play your characters?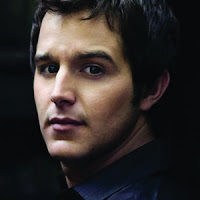 Miles Carr
EV: I didn't use to use pictures, but with the last few novels, I've found it very helpful. Easton Corbin was the template for Miles Carr, Amy Adams played Fran Seaton, Dylan Bruno was Jonas Spooner, and once I saw the cover art for A Bride's Portrait, Alyssa Milano (but with blue eyes) became the template for Adeline Reid.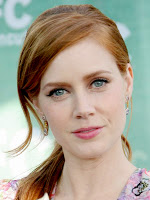 Fran Seaton
JP: Was it Alyssa? I thought it looked just like her! Well, I'll be! Great choices, Erica. What would your characters say about you if they had the chance?
EV: Probably "Stop being so mean to us!"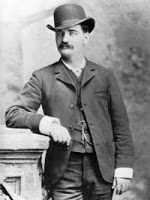 Bat Masterson for real
JP: LOL! Well in their defense, you were! Tell us what you're working on now?
EV: My next novel is called A Bride Sews With Love in Needles, CA. Here's a brief overview: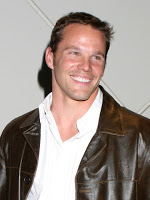 Jonas Spooner
With her brother already on the front lines in France, Meghan becomes a Harvey Girl in Needles, California. Ready and willing to wait on the hundreds of doughboys heading for Europe, Meghan deems this service her way of contributing to the war effort. When her brother is injured in battle, she enlists the Harvey Girls into sewing a Red Cross signature quilt to raise money for wounded soldiers.
Horse breeder Caleb McBride makes his living by selling stock to the US Calvary and keeps his pride by remaining a loner. When Meghan meets Caleb, she senses something mysterious and wounded about him, piquing her curiosity. But when the townsfolk scorn him as a coward and profiteer, Caleb feels her pity and becomes even more guarded.
When Needles is hit with an influenza epidemic, the Harvey Girls' hotel is made into a temporary hospital. While tending a stricken Caleb, Meghan discovers his shameful secret. Will both Caleb and Meghan find a way to kill their pride before their chance at love rips apart at the seams?
JP: Sold! That sounds intriguing! Thanks so much for coming by today, Erica. I truly loved your book–the plot, the solid characters, their quirks. I've already loaned it out!
Here's a sneak peek at A Bride's Portrait of Dodge City, Kansas.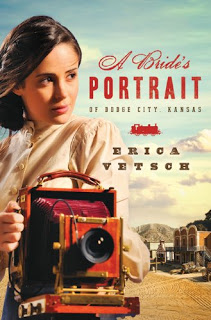 Quench your craving for good fiction with this wonderfully written Old West adventure. Hoping to leave the shadows of her shady yesteryears behind, Adeline Reid is focusing on her photography career. But when her ex-boyfriend's compatriot in crime shows up in Dodge City her entire past is threatened by exposure. Can Addie keep her secrets while helping to catch a killer? Deputy Miles Carr's investigation into a shopkeeper's murder leads him to Addie's door. Will his attraction to this female photographer keep him from catching the true culprit? Or will Addie lead him off course in more ways than one?
Before you go, Erica, would you like to ask everyone a question?
How do you feel about finding historical characters mixed in with your fiction? Love it, hate it, depends on the story?