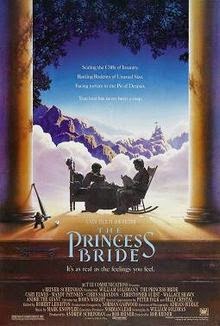 Welcome friends! Today is the launch of the new 6-week
series using The Princess Bride to
teach us some life applications and biblical principles.
If you haven't seen this movie (and why haven't you?), you
should. But it won't affect anything other than you'll see clips to a movie
that you should have already watched.

Without further ado, let's watch the clip first, shall we?
Is this a kissing book? I think we go into reading the Bible
with a lot of misconceptions. I've talked about this before. (But I don't like
the Bible!) You can read it
HERE
. But the Bible is very much like
The Princess
Bride
.
Next clip!
The Bible is all about a great adventure. It's about One who
loves so much, He fights, saves, redeems and would even (and does!) sacrifice His
own life for the ones He loves. It's a special book. One that helps the sick become well. It takes our minds off our suffering and onto Jesus. We pass it down from generation to generation. It's ripe with battles, fencing, fighting, torture, giants,
monsters, escapes, miracles…all for true love.
Doesn't sound too bad, huh?
"This is how much God loved the world: He gave his Son, his
one and only Son. And this is why: so that no one need be destroyed; by
believing in him, anyone can have a whole and lasting life." John 3:16 MSG

I think it's important to have this in mind when cracking
open the Word of God. Every page. Every chapter is about Jesus and the GREAT
PLAN to keep us from the enemy's clutches. Like Prince Humperdinck, the enemy
doesn't actually care about us or love us. He's a deceiver. A schemer. And his
plan is to kill us, given a chance.

BUT…

That's not God's plan. God's plan is that we live. And
abundantly.

"The thief comes only to steal and kill and destroy; I have
come so that they may have life, and may have it abundantly." John 10:10 NET
The Bible doesn't have to be dry toast. It's all about
attitude and perspective when you read it. I think we'll discover that a
kissing book isn't too bad after all.
Next Monday join me for
Never
a Need to Doubt!
What's your favorite biblical story? Why?