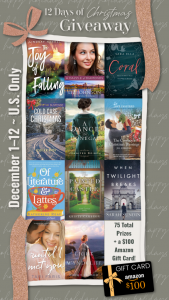 Hey friends! It's that time of year again when I get to team up with some of my favorite authors to bring you the 12 Days of Christmas Giveaway where the prizes build each day and the grand prize consists of all the books and a $100 Amazon card!
So without further ado, on the 8th Day of Christmas author, Jessica R. Patch gave to me…
Cold Case Christmas!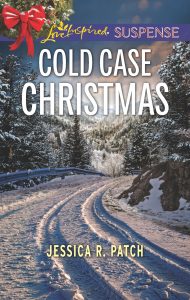 Secrets lie buried in ice…
One of them can kill her.
Home for Christmas after her long-missing mother's body is found, nothing will keep Nora Livingstone from uncovering the truth about the cold case. Especially not Deputy Sheriff Rush Buchanan, whom she once loved and left. Even when threats become attempts on her life, Rush can't dissuade her—but he will protect her. Because someone is determined to bury the truth…or bury Nora.
And you'll also receive books by:
12/1      Liz Johnson – www.lizjohnsonbooks.com/giveaways
12/2      Jill Kemerer – http://jillkemerer.com/blog/
12/3      Sarah Sundin – http://www.sarahsundin.com/blog/
12/4      Sarah Ladd – https://sarahladd.com/giveaway/
12/5      Tari Faris – https://www.tarifaris.com/blog
12/6      Katherine Reay – https://katherinereay.com/events-and-promotion/
12/7      Lindsay Harrel – https://www.lindsayharrel.com/blog/
a Rafflecopter giveaway
Merry Christmas and Happy Holidays to each one of you!
Warmly,
Jess
P.S. Don't forget to stop by Sara Ella's IG tomorrow to see what new prize will be added!