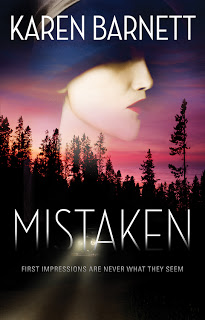 We kicked off the night with all the ingredients to make Chocolate Egg Creams, which by the way have no eggs and no cream. Yeah, I know, crazy right? I played Soda Jerk. Keep your comments to yourself, yah hear!
While we sucked down the delicious drink, root beer floats and homeamade chocolate cobbler, we discussed Karen Barnett's debut novel, Mistaken.
Here are a few comments made:
I loved her writing style. It was easy and flowed well. I could picture everything going on.
I had no sympathy for the drunk.
I could understand why he drank and I thought it was sad, but it didn't make what he did right.
I loved the era. The cars, the pharmacy, the clothing. I would have loved to wear that clothing.
Sometimes I wanted to slap the heroine, but I want to slap just about every heroine. (That might be my favorite comment of the night and it wasn't even mine. 😉 lol ~Jess)
I liked how they discovered God on their own. No one preaching to them.
I didn't think that there was much of God at all in the book, but it was good.
After we talked with each other, we had the privilege of talking with Karen over Skype! FaithReaders feel so honored to have "broke in" several authors over Skype as the first book clubs ever to chat with them! Karen was warm and lots of fun. She answered all of our questions even sent us some pictures she used for research, including head shots of who she thought would play the characters well. Great job, Karen!
Everyone plans to read her next book so I guess all we have left to say is: Hurry up and release it! 🙂
Here's a peek at Mistaken:
Since booze and
prohibition have made criminals out of every man in her world, Laurie Burke
resolves to find at least one honorable man to fill her life. Convinced that
handsome newcomer Daniel Shepherd is connected with her brother's rum-running
gang, Laurie quickly scratches his name off her list. Daniel has mixed feelings
about returning to the dirty mill town of his youth, but grudgingly agrees to
manage his grandfather's drug store until a replacement can be found. The
moment he meets Laurie on the windswept bluff overlooking the beach, he knows
that if he can earn her love, he might have a reason to stay. But when Laurie
pushes him away–for none other than Federal Agent Samuel Brown–Daniel wonders
if Laurie really is the upstanding woman he thought her to be. The Strait of
Juan de Fuca, just off the beaches of Port Angeles, Washington, was treacherous
water for reckless rum-runners—and the agents who tried to catch them. So when
she realizes her brother is in danger, romance is the last thing on Laurie's
mind. Yet the people she believes she can trust, may not be so honorable after
all.