I have a hobby. I love to refurbish furniture and paint and distress pieces to make them look old. I haven't always been into this. It rubbed off from my bff's "Jane" and Leelee.
Leelee loves french country and Jane, well, she just likes old stuff.
I've done several pieces. I've rag painted my bathroom, my mom's bathroom and fireplace, bathroom cabinets, an armoire, a dresser, a magazine rack, and my most prized posession is my buffet.
Here's how it all happened…
It was a Thursday. Thursdays are my days to spend with Jane. I remember the clouds were dark–rain was coming in, but it didn't matter. We had no plans to go out, just hanging at my house watching Vampire Diaries, drinking coffee, and yapping.
The doorbell rang and I could hear her hollering, "Open up! Hurry!"
My dog barked until I wanted to kick her, but she's quicker than me so I didn't bother. I opened the door and Jane grinned from ear to ear. "What? I know that look."
"I found a buffet down the street," she drawled in her southern country accent. "You must have it because I don't have room for it!"
I looked around my living room and open kitchen. "Where'm I gonna put a buffet and how much work needs done to it?"
She tugged my arm. "Come on before it pours."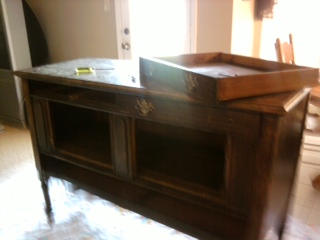 My buffet BEFORE
We hopped in her Expedition and sure enough there it was in all its um…glory?
It was missing a door. I looked at it and frowned. It was old, heavy–original wood casters and dove-tailing. Hmmm…
I stared at it, trying to figure out if I wanted it or not.
"I don't know."
Thunder rumbled, lightning peeled and rain started to come down. We jumped out of the vehicle and kicked some funky insulation out of the way to get to it.
My son was with us and he hollered, "Why are you stealing somebody's old table? You're gonna get taken to jail." I ignored him while Jane and I tried to pick this massive buffet up off the ground.
Jane was wearing a mini-denim skirt. Fabulous. We hoisted half of it in the back and she climbed in to pull while I pushed. A big burly guy two houses down stood outside under his garage awning and…watched. Hey thanks for the help, ya jerk.
We finally got the buffet in, the man had a nice show thanks to Jane's skirt and the comedic event that transpired, and we loaded it in my garage. All of us, but my son, soaked.
I got excited about it as Jane shared the possibilities.
My husband came home. "What is that load of junk in the garage I just cleaned out."
"It's an antique buffet, and I'm going to refinish it."
"It ain't worth a quarter." (He now wants to sell it on Craig's list) I ignored him too.
I'm painting my walls Calico–eventually, so I chose a nice warm gold paint. I stripped that bad-boy down, primed, and painted then used my putty knife to scrape my fresh paint off giving it a shabby-chic look.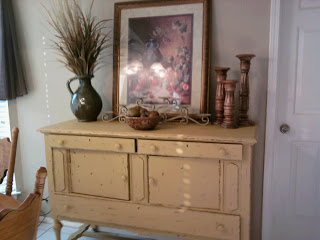 Buffet AFTER Go ahead, oooh and aaah!
 It's wonderful! My favorite piece.
Jane's hubby made an identical door, she stained it and came over to put it on along with the knobs I'd bought and painted.
When it was over, we ordered a pizza and sat back on the couch, staring at it. When I did my bathroom cabinets, we sat in there drinking our coffee–staring. We like to stare.
I'll never forget what Jane said to me. "I'm so glad you finally saw the big picture. I knew this was valuable and would be beautiful. We're a lot like this buffet–missing doors, broken down, tossed out even as worthless junk. But God sees the masterpiece. The beauty and the value."
I may have a hard time seeing the big picture, but I'm thankful God does not!
What's your hobby/hobbies?