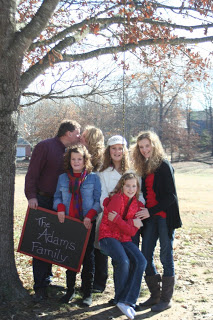 Ben and his beautiful family!
Today I'd like to introduce you to Ben Adams. Ben attends my church and is a dynamic leader, great speaker, and all around funny guy. He's married to a fabulous and funny woman and they home-school their 4 girls! I'm always inspired by Ben and his beautiful wife, Lisa. I'm thrilled to have him here guest posting. I know you'll be inspired as well.
Heeeere's Ben!
A few days ago my wife returned home to share her latest adventure at Kroger. As she began to tear up I was already preparing to go confront some rude checker or maybe put a GPS tracker on the person who had hurt her feelings. As I listened further I discovered that the tears were from watching an elderly mother push her basket out of the store while her grown "special needs" daughter clung to the cart. The mom looked tired not just from age, but probably also due to years of caregiving to her daughter. My wife wondered just how many times over the years that the daughter had heard her mom say,"Now hold on to the basket". It had obviously sunk in.
These kind of scenes always tug at our hearts because we have a "special needs" daughter who is only 9 years old. From time to time we allow ourselves to look into the future and imagine what our retirement years might be like when our Sweet Caroline is an adult. We know God will provide our needs in all situations, but some days the task seems large. As the Kroger story finished I was quickly taken back a few years to a trip to Sam's Club. I have always loved shopping at that massive warehouse. I get excited not only with the size of the store, but with the fact that I can purchase office supplies and milk in the same place followed by lunch at the deli. It was just Caroline and me on this trip. Caroline's delay in speech was very obvious at that time and she maybe had about 15 total words in her vocabulary. Caroline had been to Sam's numerous times and gotten a bit bolder in trying to wander away from the basket with each trip.
"Hold on to the basket, Caroline." I would tell her repeatedly. I made it to the bakery section and she wanted to look at all of the birthday cakes on display. In the brief moments that I studied which loaf of bread would offer the most savings I turned to see that Caroline was out of view. I quickly scanned the bakery area and saw no sign of her. I noticed an entry to a restricted worker area, but nobody had seen a small child wandering around. I began to feel my heart race a little faster as I jogged from aisle to aisle and could not find my daughter. I worked my way from the back to the front and after 5 minutes of searching I ended up at the exit door and asked security if they had seen any small children pass by. They said nobody matching Caroline's description had been by. I asked them to check every kid that moved their direction to see if they could spot her. I don't panic easily but I had never lost a child for this length of time. I was already wondering how I would explain this to my wife. How could I have been so careless with our weakest and most vulnerable little one? God help me!!!!
As I ran back towards the refrigeration section on this 10 minute search I finally spotted a nice lady just standing in place holding Caroline's hand. Her face said she recognized that she had a lost child and was determining her next course of action. Caroline looked quite confused as to why her dad would have disappeared from her for so long. As I drew closer Caroline used one of her few words and exclaimed, "Daaaaaaaaaaaaaddddddddd"!!!! A baseball sized lump grew in my throat. I was unable to even thank the "angel" lady who took the time to stand there with my girl until her Dad showed up. I swept Caroline up in my arms and went to a private corner of the store and began to sob as I kissed those sweet cheeks a million times. One passerby asked if everything was OK and I said, "They are now"! Caroline seemed puzzled by my tears as she stroked my hair and asked, "OK, OK"? I have never forgotten that experience and can't begin to count how many times I have told Caroline to hold on to the basket every time we make a trip to a store.
As I continue to grow daily in my walk with Jesus I realize more and more of just how many times I tend to wander off from His Guidance because I see something flashy that catches my eye. I don't intend to wander away, but there are just so many things pulling me from where my focus should be. Before I know it I am several aisles away in a large warehouse type world wondering where my Dad is. I am so thankful that Jesus continues to pursue all of us the way I chased down Caroline in that store. Jesus willingly leaves the 99 to go out in search for the ONE!! Those reunions are just as wonderful as when I held Caroline in the corner. The sign of maturity in our spiritual walk is when we finally learn to "hold on to the basket" because if we do , Jesus will always lead us HOME.
That's exactly where I want to be!!