I'm drawn to the witty, clever, and funny exterior with a warm, gooey and deeply spiritual inside. And that's Melissa Tagg in a nutshell. Okay, not a nutshell, but in real life. (refer to Wayne's World.)
I have no idea how I stumbled upon "Tagg's" blog. I call her that. I don't know if she likes it or not. But it doesn't really matter, now does it? No one ever asked me if I liked being called "Little Oz" "Ozzy" or "Short Oz." I digress. My point is, Tagg's personality and fun writing style caught me up and she's one of the very first people I hunt down on MWF. Yep, I enjoy her blog that much! Go see for yourself.
Native Iowan and former reporter Melissa Tagg, is a big fan of love and laughs…which is why she writes humor-laced contemporary romance. (Well, that and the amazing paycheck she's sure will come any day now.) In addition to her homeless ministry day job, she is also the marketing/live events coordinator for My Book Therapy. She won the 2010 Frasier Award and finaled in the 2010 ACFW Genesis Contest.
JP: See? How funny is she? Congrats on your awards, Tagg. When did you get the writer's bug?
MT: Oh goodness, I think around the time I got teeth. (Uh, because I've always liked to "chew" on a good story…? Okay, should've let that one go.) Seriously, though, I've loved stories as long as I can remember. Sometime in my childhood it must've dawned on me that stories don't just happen – someone writes them. And I decided I must be one of those someones. J
JP: Badump, bump, ching! Tell us one favorite line in one of your WIP's and tell us why?
MT:
Okay, I promise I'm not being lazy here, but I'm going to give you the first line of my book! I've had about 12 different first lines and thanks to inspiration from
Susan May Warren's
teaching AND a blog post by awesome friend/upcoming debut author
Beth Vogt
, I finally have an opener I love.
Here it is:
On any other day of the year, she could almost forgive herself for the lie.
JP: Ooooh! Good one. I'd tell you if I hated it. What day of the year is that? I ask. And almost means she never has forgiven herself. Well, done, friend. Well done. I could camp on this for a bit longer but I won't so let's move along. Do you listen to music while you write? I totally feel a Coldplay plug-in coming on.
MT: Oh, I love Coldplay so much Cupid should probably recruit me. Their new album, Mylo Xyloto, is fab-u-lous!!
But actually, I rarely listen to music when I write because it's too easy for me to start singing instead of staying immersed in the scene. If I do, it's usually instrumental – and something fitting to the mood of my scene. Oddly (or really not so oddly if you know me) my best music for writing is a strings orchestra recording of Rogers & Hammerstein's greatest hits. OR (and feel free to laugh), I have a string quartet album of Coldplay songs.
JP: Thanks for permission. I'm giggling. I'll admit, yah know since you said I could feel free! So, what genre do you like to read? Do you write that genre?
MT: I adore romantic comedy with lots of hilarity, but also character depth (think Jenny B. Jones) – which is definitely what I aspire to write. But I read lots of genres: I enjoy both women's fiction and contemporary romance – though I will confess to being slightly picky with romance. I also love a good thriller or suspense and even the random fantasy here and there. (I'm a massively huge fan of Ted Dekker's earlier books, especially the Circle series.) And, thanks to both Susan May Warren and Deeanne Gist's fabulous historicals, I'm now a historical fiction fan, too. Someday I'd love to try writing historical for the fun of it.
JP: Well, I can't wait to read your books. If you could pick one villain from a book to be for a day, who would you choose?
MT: First of all, kudos on seriously fun questions.
JP: Thanks! I do like to try and keep things fun. Is everyone having fun? If not, please lie and say "yes."
MT: I'd have to say Captain Hook from Peter Pan. Because he gets to hang out in Neverland and has fabulous hair. Although, the hook would make typing and playing piano a challenge…
JP: He does have great hair! Great answer. Fall is here, what one thing do you love most about this season? What one thing do you like least about this season?
MT: I love so many things about fall – by far my favorite season – but probably my faves are all things pumpkin: Pumpkin spice lattes, pumpkin spice creamer, pumpkin bars, pumpkin scented candles.
Least favorite is definitely its length. Autumn is way too short.
JP: I agree. I am making gooey-pumpkin butter cake for Turkey Day. Bet you wish you were gonna be here, huh? I'll send you a picture. Speaking of pictures, do you hunt down any of your characters from the internet? Care to share what your hero and heroine look like with us from your current WIP?
MT: Sometimes I do that, yes! For my current book, here's who we've got: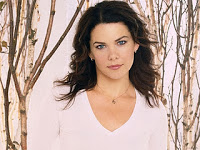 Put Levis and a tool belt on her, and Lauren Graham IS Miranda Woodruff, my heroine.
JP: I like her! But you know, I've never watched Gilmore Girls or Parenthood. Chics in toolbelts. Awesome. I see some comedic scenes for sure!
MT: Honestly, I didn't mean for this to happen, but I've been picturing my main male character, Matthew Knox, as Jason Ritter. (Both Graham and Ritter are in the TV show Parenthood.)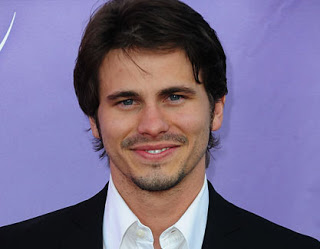 JP: Are they paired together on the show? They look cute together!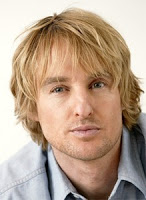 MT:
And if you give Owen Wilson a black moptop instead of blonde, he's totally Blake "Blaze" Hunziker, my other main dude. (Apparently I've filled this book with dark haired folks.)
JP: I tend to gravitate toward dark haired males myself. Okay, I'm so fanning myself right now. 🙂 What would your characters say about you if they had the chance?
MT: Oh dear, they'd totally ruin the cool and confident vibe I'm sure I give off around real people. (Real people, please stop laughing.) No, my characters would probably gab about my writing mood swings. If they behave and a scene goes well, I go all giddy. When they don't cooperate, I sink into the depths of despair. They'd also probably express concern over my need to speak dialogue out loud as I'm typing and act out scenes…
JP: OMG! I do that too! Or if I'm picturing a scene while I'm driving sometimes it comes out my mouth before I realize it. I always hope people think I'm singing or on a bluetooth! Your characters are great now give us a peek into the story!
MT: Sure thing! Here's a blurb for my second WIP, From the Ground Up.
Since the first season of her popular homebuilding show, celebrity Miranda Woodruff has entertained viewers with stories of the husband who taught her all she knows. Too bad said "husband" abandoned her before the season aired…and before the wedding. Now facing teetering ratings and with media curiosity at an all-time high, Miranda's producer insists she come up with a husband – real deal or not. Mock mate in tow, she sets out to save her show. But then nosy reporter Matthew Knox lands on her doorstep, lugging his own set of personal baggage and desperate for a breakout story. The only thing worse? The reappearance of her former fiancé.
Juggling secrets and supposed spouses, Miranda's heart is in for a major renovation as God shows her where her true identity lies.
JP: Okay, I'd buy this book today, yah hear me? It sounds awesome! Thanks so much for coming by and hanging out with us today, Tagg. It's been a blast and I've been smiling and giggling the whole time. Is there anything you'd like to ask the peeps that hang around my "waterfall" cooler? They'd be happy to answer, as they are the most awesomest people around!
I loved your question about what villain I'd be for a day if I could. So can I copy you and ask that one to everyone else? And thanks so much for having me. How fun!!
Okay, everyone, if you could be a villain for one day, who would you be? Get creative, get dark, get on it! Tell us!