December has been a whirlwind, y'all! A good whirlwind, though. I spent less time on social media and more time with friends and family face-to-face. How about you? In fact, lately, I've been thinking about the time I spend. Time on social media. Time with my laptop. Time with family. Friends. Time with Jesus. 
Some days I feel the quantity but not the quality. 
I've been praying a lot about what God might have me place my focus on this year. It's going to be another whirlwind–it's true that the older you become, the faster time seems to pass. I have three books and one (maybe two) novellas releasing this new year. My daughter will be home for one summer before she truly will live somewhere else. My son is entering high school. Things are stirring in other personal areas, in my church. So, Lord, what should my focus be?
I learned several years ago, that resolutions don't work for me. I give up. Of course, I set goals. I think it's important to do that. But the ONE WORD or PHRASE for the year keeps me focused.
These past few months, the Lord has really pressed a word on my heart. It whispers through my lips in prayer. A friend ordered me a book and journal with the word and topic for Christmas, not knowing this word has been burning through me.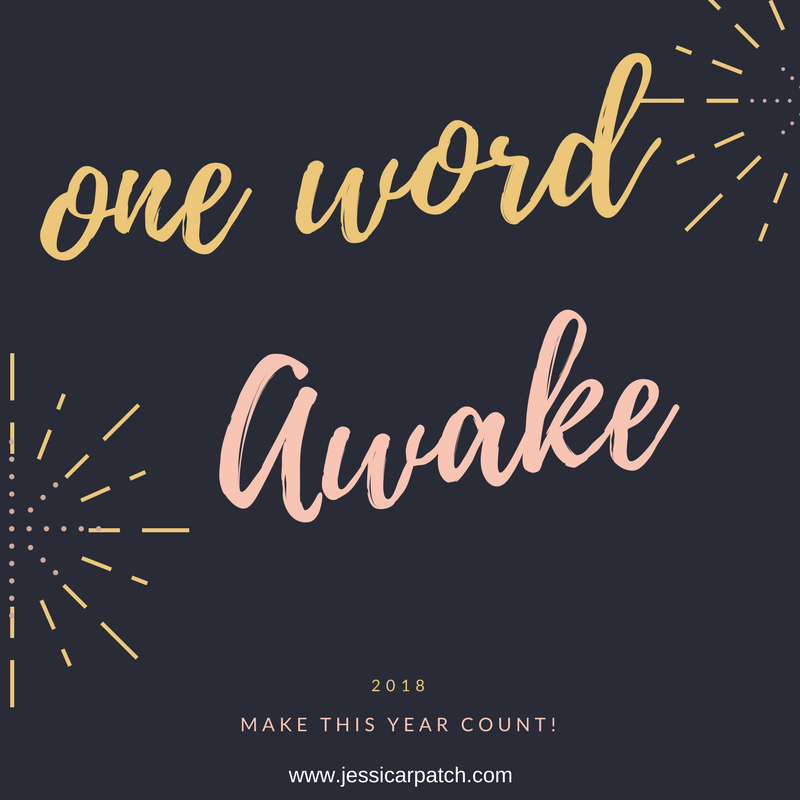 AWAKE. I have to admit there are areas where I've been asleep, spiritually sluggish. Exhausted to the point of not being able to rouse myself. And the Lord in His tenderness has brought this to my attention and given me a good shake.
What exactly does AWAKE mean? What will this look like in my life?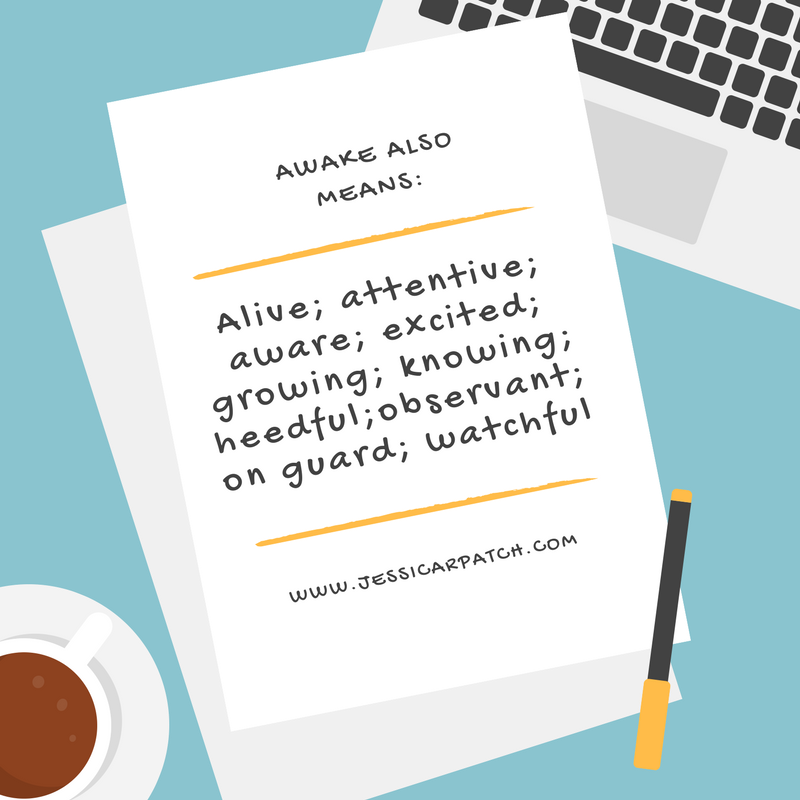 I want to be awake mentally, emotionally, spiritually, physically. I want to SEE all that God has for me and be growing daily. I want to heed what the Lord says and be on guard for distraction and temptation so I can bypass it! I want to be observant like Joseph when he noticed the countenance of the butler and the baker and saw they were upset (you know at one time he wouldn't have noticed that). 
I want to be AWAKENED. Breathing in God and breathing Him out. 
So each week I'm going to unpack some verses that will help us all awaken, help us all grow and meditate on His word and what it means. I hope you'll join me, share with your friends, and this year, be awake with me! 
What say you? Are you in?
Forward Challenge: Be awake in all things. Be present. Be observant for what God is doing. Be heedful and obey. 
Forward Scripture: "The angel of God came back, shook him awake again, and said, "Get up…—you've got a long journey ahead of you." 1 Kings 19:7 MSG
Forward Prayer: Awaken us, Lord. In every area where we've been dozing or full-on snoozing. Waken us to Your heartbeat. Your calling. Your Word. Breathe into us and make us live again. No more dry bones. Only life and life more abundantly, in Jesus name. Amen.
Do you have a New Year's resolution, goal, one word or phrase, or a particular scripture for the new year? I'd love to hear it. 
Happy New Year, Friends!