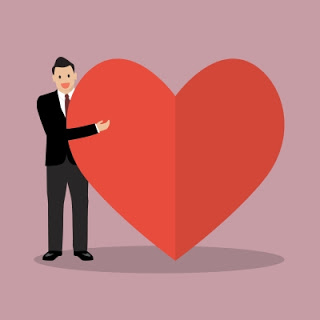 GENEROUS: A word that has been rolling around in my heart often
and repeatedly as of late. What does "generous" mean? According to Webster's Dictionary: "the
quality of being kind, understanding, and not selfish : the quality of being
generous; especially : willingness to give money and other valuable
things to others"
When thinking of generosity, the word "money"
inevitably comes up. But there has to be more to the word than simply giving of
money, though that means a lot.
Isaiah 32:8 (KJV), says, "But the liberal deviseth liberal
things; and by liberal things shall he stand." Other translations use "generous"
in place of liberal. Liberal in the Hebrew is, "nadiyb" and it comes from the
root word, "nadab" which means, "make willing, volunteer, to offer free-will
offerings."
I'm reminded of the children of Israel. In Exodus
35:29 (NKJV) it says, "The children of Israel brought a freewill offering to
the Lord, all the men and women whose hearts were willing to bring material for all kinds of work
which the Lord, by the hand of Moses, had commanded to be done." They were
about to build the tabernacle. We know that God supplied them with the
materials when they knocked on the Egyptians' doors and they handed over gold
and silver, and all kinds of things.
God supplied. They gave back what already belonged to
Him. Only the ones with willing hearts. Volunteers. Which means some had been
blessed by God and kept it. They didn't offer freely, nor did they volunteer.
They kept what really didn't belong to them in the first place.
Generosity means bringing more than money to God,
though it does mean that. In fact it's not even so much about the material item
as it is the heart in which you bring it.
Paul says in 2 Corinthians 9:7, "So let each
one give as he purposes
in his heart, not grudgingly or of necessity; for God loves a cheerful
giver."
Anything offered to the Lord needs to be done by
freewill. Not because a preacher tells you an amount or percentage you have to
give. Not because you know if you reap good things you'll get good things and
you really want good things, that would be ulterior motives. The motive to get
not the love of giving. And not because it's obligation or duty as a Christian,
but because above all else, you WANT to. It excites you.
Because you get giddy giving.
It's about offering your time. Your gifts. Your
ability. Your service. Your money. Your home. Your food. Your clothing. Your
drink. Your dinner table. Your "fill in the blank" for God. Because all of
those things were given to you by Him, to be used for Him, and to minister to
others.
My good friend has a painted quote by Anne Frank hanging in her living
room. One night when I had a major internet issue, she freely offered her home
and internet so I could get work done. I showed up and they left for dinner
with family. I wasn't an intrusion on their plans. I sat at their kitchen table
and glanced up to read that painting.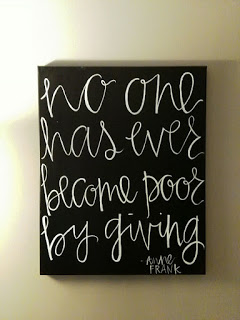 "No one ever became poor by giving." That's
what it read. It struck my heart in a major way. It's been lodged there ever
since and that's been a couple of months ago.
Sowing and reaping is an undeniable truth. But we don't
sow in order to reap.
We sow and water because we're building something
special upon Someone even more special.
Paul says, "I
planted, Apollos watered, but God gave the increase. So
then neither he who plants is anything, nor he who waters, but God who gives
the increase. Now he who plants and he who waters
are one, and each one will receive his own reward according to his own labor.
For
we are God's fellow workers; you are God's field, you are God's
building. According to the grace of God which was
given to me, as a wise master builder I have laid the foundation, and another
builds on it. But let each one take heed how he builds on it. For
no other foundation can anyone lay than that which is laid, which is Jesus
Christ." 1 Corinthians 3:6-11 NKJV
I'm unearthing more every day about generosity. And
that is why this year, it's my ONE WORD. GENEROUS. This year I want to dig the
mines of Scripture, to understand generosity through the eyes of those in the Word,
through the eyes of God. And I want to apply it to my life. To taste the
sweetness of the fruit and relish as the prosperity floods and fattens my soul. I want to
testify to the goodness of giving. Does that mean I'll be saying "YES" to
everything asked of me in church or by people? No. I can't say yes to
everything. Neither can you, and you shouldn't.
But as I spend intimate time with God, I'll say YES to
what He leads me to. I'll know when He puts blessing in my hand to return to
Him. I'll truly be living proof of: "Whoever brings blessing will be enriched,
and one who waters will himself be watered." Proverbs 11:5 ESV
What will
you work toward in 2016? A goal? A particular word? A resolution?
Also, you still have time to enter the giveaway on Goodreads! It ends Thursday. I'm giving away 5 advance copies of Fatal Reunion which is already in some stores and hits shelves and every online retailer Jan. 5th!
.goodreadsGiveawayWidget { color: #555; font-family: georgia, serif; font-weight: normal; text-align: left; font-size: 14px;
font-style: normal; background: white; }
.goodreadsGiveawayWidget p { margin: 0 0 .5em !important; padding: 0; }
.goodreadsGiveawayWidgetEnterLink {
display: inline-block;
color: #181818;
background-color: #F6F6EE;
border: 1px solid #9D8A78;
border-radius: 3px;
font-family: "Helvetica Neue", Helvetica, Arial, sans-serif;
font-weight: bold;
text-decoration: none;
outline: none;
font-size: 13px;
padding: 8px 12px;
}
.goodreadsGiveawayWidgetEnterLink:hover {
color: #181818;
background-color: #F7F2ED;
border: 1px solid #AFAFAF;
text-decoration: none;
}