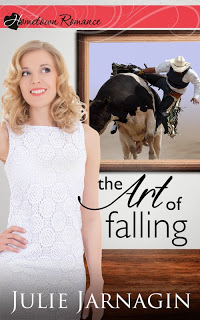 I am
so excited today to have my good friend Julie Jarnagin here. Julie is one of my
favorite authors too! And today she's talking about her novella. Take it away,
Julie!
Hi,
everyone. Julie Jarnagin here. I'm so excited to be on Jessica's blog today.
Jessica is one of those friends who can always make me smile even when I'm
having a bad day!
Do
y'all love comfort food as much as I do? When I think of comfort food, the first
thing I think about is the potlucks we used to have in the basement of my small
hometown church. The entire table would be covered in fried chicken, ham,
broccoli and cheese casserole, deviled eggs (someone always brought deviled
eggs), and more delicious dishes than I can list. And then there was the
dessert table! Coconut cream pie, Texas sheet cake, banana pudding…yum!
My
goal in writing my latest series, Taste of Texas, was to give you that same
feeling that I got at those potlucks full of great food and warm people. And
I'm having a blast writing them. These books are all set in central Texas and
have plenty of good food and cute cowboys. What could be better? 🙂
I
recently released the first book in the series, a novella titled The Art of Falling where you'll meet
Heather, a cautious art museum fundraiser, and Wyatt, a bull rider with a big
heart. I actually wrote my upcoming novel Kiss the Cowboy first, but as I was
working on it, I realized that two of the secondary characters, Heather and Wyatt,
had their own story to tell. That's where the idea for The Art of Falling was born.
What are some
of your favorite kinds of comfort food?
Below
is my mother-in-law's famous chocolate sheet cake recipe.
Pat's
Chocolate Sheet Cake
2
cups sugar
2 cups
flour
1
stick oleo
1/2
cup shortening
1
tsp salt
1
tsp vanilla
4
Tbsp cocoa
1
cup water
2
eggs
1tsp
soda
1/2
cup buttermilk
Mix
flour and sugar in a bowl. Bring oleo, shortening, cocoa and water to a boil.
Add hot mixture to sugar and four, mix well. Add remaining ingredients and mix
well. Bake at 400 degrees for 15 minutes in an 18x12x1 inch pan.
Icing:
1
stick oleo
6
Tbsp milk
1
Tbsp cocoa
1
box powdered sugar
1
tsp vanilla
Bring
oleo, milk and cocoa to a boil. Then add powdered sugar and vanilla. Frost cake
while still hot.
Here's a peek at The Art of Falling
Heather Tornsten needs a man…a celebrity,
more specifically, for a fundraising gala for the Dallas art museum, where she
works. And what better headliner than bull rider Wyatt Lawrence? Although why
people idolize grown men who make their living falling off animals, she'll
never understand.
When his mom was diagnosed with cancer,
Wyatt determined to focus on doing what she wants—like visiting some art
museum. But when his mom teams up with Heather Tornsten to get him involved in
a fundraiser, he knows he's been set up. The more involved he gets with the
pretty events coordinator, the more he realizes falling off a bull is far
safer. Because falling for Heather–who has made it clear that she won't risk her
heart on any man who courts danger–might break a whole lot more than his bones.
Julie Jarnagin is a multi-published author of inspirational
romance. She grew up in a small Oklahoma town where her family farmed and
ranched. These days she lives in a not-so-big city with her amazing
husband and two young sons who tolerate all her nerdy
quirks. Julie earned a B.A. in Journalism / Professional Writing from
the University of Oklahoma and is a member of American Christian Fiction
Writers.
www.JulieJarnagin.com