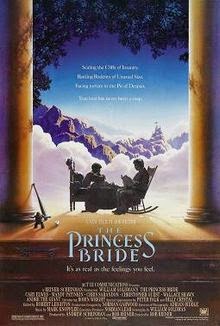 Hey everyone! We're halfway through our Princess Bride series! I hope you're enjoying yourself. If you
haven't read the first two, you can catch them by clicking on the titles below:
Now, we're ready. Let's watch the clip first!

Ah the Fire Swamp! A frightening place to be, but a place
they must go through. Ever feel like you've been navigating through a Fire
Swamp? I know I have. One thing after another. Unexpected calamity. A huge
medical bill. A devastation in the family. You can insert your Fire Swamp Fears
______ here.
Buttercup feels overwhelmed. Things look dim. And then after
all that, she falls into lightning sand. Ever felt like you're drowning in
quicksand?
Thankfully, we never have to drown. Like Buttercup, we have
a rescuer.
I love that old hymn, "My Hope is Built on Nothing Less."
Than what? Jesus' blood and righteousness. When darkness
veils His lovely face, I rest in His unchanging grace…
On
Christ the solid rock I stand…all other ground is…
Sinking sand.
Just when she thought she was in sinking sand, she was
rescued. And just when she caught her breath, another kind of evil came at her.
R.O.U. S. Ever feel like you have unusual-sized problems?
Giants? Yeah. Me too. But Westley gives her hope and comfort.
Buttercup says, "We'll never succeed. We may as well die
here." Ever felt like throwing in the
towel and giving up?
Don't!
"So we
must not get tired of doing good, for we will reap at the proper time if we
don't give up." Galatians 6:9 HCSB
Westley comforts her and gives her some confidence to face
the next battle. "No. No. We have already succeeded…" They know what to look for. And he leads her on.
"No,
despite all these things, overwhelming victory is ours through Christ, who
loved us." Romans 8:37 NLT
Then he takes what the enemy meant for evil, the flame spurt
i.e. fiery darts, and uses it against him. He works everything out for good for
Buttercup.
And God will do the same for you!
"And we
know that God causes everything to work together for the good of those who love
God and are called according to his purpose for them." Romans 8:28 NLT
If you
had to go up against one of the three, which would you choose and why? Flame
spurts, lightning sand, or R.O.U.S.?
Next Monday, join me for Never Go Against a Sicilian.