Hey everyone, no I'm not off my blogging break yet but I had to pop in because if you aren't reading Heather James's Lure of the Serpent series, you cray-cray!
I read Unholy Hunger back in April of 2013. I think on a recommendation from the amazing Jordyn Redwood and I'm so glad I did.
At first, after reading the back cover, I was like uh…I don't know if I can handle this because it's about a little child abduction and murder and that stuff freaks me out, especially as a mama but I wanted to see just how Heather James pulled it off. I, personally, have never seen this subject matter tackled in the Christian Publising market (doesn't mean it hasn't just means I haven't read it) so I decided to take the plunge.
Oh. My. Word. I am so glad I sucked it up because from page one I was so sucked in. James' voice…just incredible and Evelyn Barrett–her main character? Talk about wit, sharp tongue and dark humor (which is so perfectly placed when dealing with sensitive subject matter and also very respectfully done.)
I most loved the strength this woman allowed God to give her. Oh, it didn't come without some serious issues. This book was raw. Real. Gritty. Totally big screen worthy, ya'll and the way she presented evil…with a special gift given to Evelyn…just phenomonal.
So when I saw the second book in this Lure of the Serpent series had released, I had to read it!!!
Again, we're dealing with serious evil. And again, Evelyn is back with such a witty and sharp tongue with a determination of steel, that you fall in love with it. Also, there's a softer side to Evelyn we get to see in this book as well and I enjoyed that! Another gritty book done tastefully–nothing tossed in simply for shock value.
I can't say enough ya'll about these books and this author. Here are my goodreads reviews for each book and a link so you can buy it, because you really need to. Can't wait for book 3! Please tell me there's a book 3! I love this heroine. And this author!
Evelyn Barrett wants to die.
As long as her daughter's murderer dies with her, she is ready to go. Why did
this man—this stranger—destroy her family? Why has he not been brought to
justice? Why is she forced to live a life of anger and grief? Amid a million
questions she cannot answer, Evelyn knows one thing for sure: this murderer
must be punished for his crime. Perhaps the harder lesson is this: the ultimate
truth—of crime and verdict, of life and death—cannot be swayed by a mother's
revenge.
In this first book
of a new, page-turning series, a woman will be brought to her limits before she
finally recognizes the movement of the Holy Spirit and reconnects with the
source of true peace.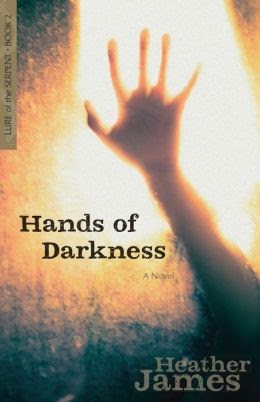 Review
BUY THE BOOK
Evelyn Barrett has a new job, a new baby, and a new life—of
sorts. Nearly crushed by the horrific abduction and murder of her daughter
(book 1, Unholy Hunger), Evelyn is moving on as best she can. No longer allowed
to practice law, she is recruited by one of the detectives from her daughter's
case to become a police consultant. Her inaugural case becomes a baptism by
fire as she joins the hunt for a chillingly methodical and sadistic serial
rapist and murderer. Her revulsion and anger fuels a passion for justice . . .
and then it becomes personal. Her friend and law school roommate, Jen, becomes
a victim. The rapist has made a catastrophic mistake with Jen: he has left her
alive and able to talk. Filled with the chilling tension of Unholy Hunger,
Hands of Darkness explores the emotional and spiritual consequences for all
involved when justice and compassion collide head-on with the darkest examples
of human depravity.
Okay, I'm now going back to my blogging break! I'll return soon.
Do you shy away from books with tough subject matter?