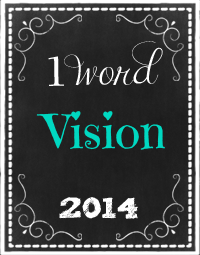 Welcome to
Wednesday, everyone!
Some do
resolutions, some do one-words. For the past few years, I've been a one-word
kind of girl. I focus on that word throughout the year.
Last year,
my word was JOY, the year before it was STRENGTH.
This year the Lord has spoken the word VISION over me.
By
definition, the word can mean several things:
the ability to see : sight or eyesight
something that you imagine; a picture that you
see in your mind
something that you see or dream especially as
part of a religious or supernatural experience
I believe
in having a vision in order to see victory in your life. Some may even call a
vision, a goal.
Habakkuk
holds the most famous verse on vision.
"Write the
vision And make it plain on tablets, That he may run who reads it."
Habakkuk 2:2
Of course,
in order to write a vision, you must first have a vision. This is where I like
to set aside the first part of January to fasting and praying for that. I think
many of us probably set aside a designated time for direction for the new year.
What do I
see for this year? Moreover, what does God see and what will He reveal to me
for this new year? It takes time, prayer and yes, even fasting to discover.
Let's look
at Daniel chapter 10.
"In
the third year of Cyrus king of Persia a message was revealed to Daniel, whose
name was called Belteshazzar. The message was true, but the appointed time was
long ;and he understood the message, and had understanding of the vision."
Daniel 10: 1
Daniel was
given a message/vision and God revealed to him what it was. He understood. We
need to seek God to give us vision and to understand it.
This
vision (regarding a great war) moved Daniel to spiritual action. "I,
Daniel, was mourning three full weeks. I ate no pleasant food, no meat or wine
came into my mouth, nor did I anoint myself at all, till three whole weeks were
fulfilled." (2:2)
If you've
ever heard of a "Daniel fast" this is where they get it from. He
fasted. He denied himself rich foods. He didn't live to eat, but rather he ate
to live during this time.
With
fasting and prayer come great reward.
"Now
on the twenty-fourth day of the first month, as I was by the side of the great
river, that is, the Tigris, I lifted my eyes and looked, and behold, a certain
man clothed in linen, whose waist was girded with gold of Uphaz! His body was
like beryl, his face like the appearance of lightning, his eyes like torches of
fire, his arms and feet like burnished bronze in color, and the sound of his
words like the voice of a multitude." (10:4-6)
Can you
imagine!?! Many scholars believe this to be Jesus Pre-Incarnate, since other
scriptures describe him the same. *the angel that speaks afterward who was
fighting the Prince of Persia is not thought to be Jesus, but simply an angel.
Daniel
experienced the glory of God in a way no one else around him did.
"And
I, Daniel, alone saw the vision, for the men who were with me did not see the
vision; but a great terror fell upon them, so that they fled to hide
themselves." (verse 7)
Why? He
had prepared himself. If we want
to experience Christ in even more glorious ways, we're going to have to
prepare ourselves for it.
This year
I want the "ability to see" Christ in new and even more glorious
ways. I want a fresh vision. I want the vision of Christ–Christ-colored
glasses on at every moment.
It'll take:
Consecration.
Inspiration.
Motivation.
Dedication.
Saturation.
Maturation.
Even at
times an Operation (on my heart and mind) if I want VISION.
And I do.
I really, really, really do. This year we'll look at the "-tions"
together. We will catch the vision of Christ for our lives. As the body of
Christ, and for our personal destiny.
"For
I know the plans I have for you, says the LORD…"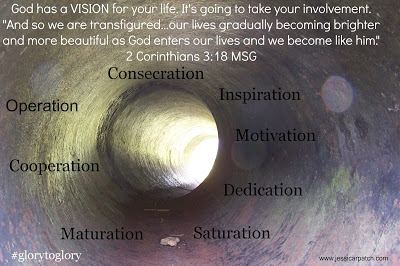 Feel free to pin this to your Pinterest board as a reminder!
Well,
let's get to steppin and get God's vision for us this new year. I'm all about
good plans and a future of hope.
How about
you?
What is your one word or goal/s you've set for the new year? What do you
want more of?