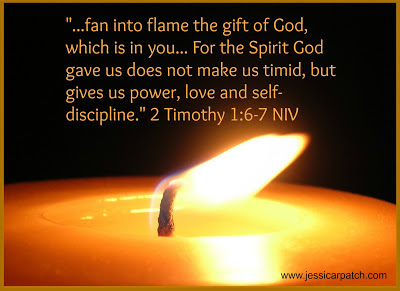 I
shouldn't be afraid of good things.
But
sometimes I am.
I knew I
was supposed to lead women's ministry at our church and I tried every single
way to talk God out of His idea. I get ticked over that scripture where God
says, "Come let us reason together." My reply is always the same.
"I'll come but we both know I'm going to lose." To this day, God has
yet to call me a loser, even though I never win in the "reasoning"
department.
So shaking
in my boots, or flip flops–I can't remember what I wore–I set off to our
pastor's office to break the news. That's how I felt about it at the time.
Ready to vomit. Unequipped. Void of any great ideas.
Ter-ri-fied.
I sat across from him. I told him what I felt God has nudged me in my spirit to
do, and then I broke down and sobbed.
I'll never
forget his words. With a smile on his face (and he had back pain that day) he
said, "Well, don't cry about it." And I laughed…and cried. And  cracked a terrible joke.
In that
moment of obedience, the nerves calmed. And ideas started flittering through my
mind. And something happened. I got excited. And scared. Then excited. God
began equipping me with people–out of the woodwork!
Things
clicked in place. For three years, I led women's ministry.
But God
led me.
One of the
greatest verses in the Bible is found in 2 Timothy 1:7. You may know it by
heart. "For God has not given us a spirit of fear, but of power and of
love, and of a sound mind." NKJV
We use it
all the time, don't we? For any fear or confusion. Some versions say
self-control in place of sound mind.
But we
can't skip the teeny tiny linking word in this verse. Those little words are
important because it gives us context. And context is vital! Even in the Bible.
So what
verses are linked to 1:7?
Let's look
at verse 6 in the NKJV. "Therefore I remind you to stir up the gift of God
which is in you through the laying on of my hands."
Paul is
talking to Timothy about the gift God gave him. But we have one of those
important words: therefore. What's it there for? So we have to link up again.
Verses
3-5: "I thank God, whom I serve with a pure
conscience, as my forefathers did, as without ceasing I
remember you in my prayers night and day, greatly desiring to see
you, being mindful of your tears, that I may be filled with joy, when
I call to remembrance the genuine faith that is in you, which dwelt first in
your grandmother Lois and your mother Eunice, and I am persuaded is in you
also." NKJV
Paul
recognizes Timothy has genuine faith. He's not riding Mom and Grandma's coat
tails–because that's impossible. And with genuine faith comes something
wonderful.
Spiritual
Gifts.
Given
by the Holy Spirit. For us. To equip.
"There are diversities of gifts, but the same Spirit. There
are differences of ministries, but the same Lord. And there are
diversities of activities, but it is the same God who works all in all. But
the manifestation of the Spirit is given to each one for the profit of all:"
1 Corinthians 12:4-7 NKJV
You have a gift given by God. And it's to be used to profit
all in the church.
Listen
to the way the Message translation reads Ephesians 4:11-13:
 "But that doesn't mean you should
all look and speak and act the same. Out of the generosity of Christ, each of
us is given his own gift. The text for this is,
He
climbed the high mountain,
He
captured the enemy and seized the booty,
He
handed it all out in gifts to the people.
Is
it not true that the One who climbed up also climbed down, down to the valley
of earth? And the One who climbed down is the One who climbed back up, up to
highest heaven. He handed out gifts above and below, filled heaven with his
gifts, filled earth with his gifts. He handed out gifts of apostle, prophet,
evangelist, and pastor-teacher to train Christ's followers in skilled servant
work, working within Christ's body, the church, until we're all moving
rhythmically and easily with each other, efficient and graceful in response to
God's Son, fully mature adults, fully developed within and without, fully alive
like Christ."
My
beloved has gone to his garden, To the beds of spices, 
To feed his flock in the gardens, 
And to
gather lilies. Song of Solomon 6:2
NKJV
says, "to equip the saints…"
Timothy
had a gift. So do you. So do I.
The
#1 things holding us back is fear. Our fears may stem from many different
things. Pick one:
My
past reads like a crime novel. I don't deserve to serve.
 No way can I do something like this. I'm a
nobody.
I'm
a hypocrite. Half the time I don't have it all together. And until I do, I
can't serve.
What
if I fail? I failed so many people, broke so many promises, what if I fail God
and He's been good to me so far.
I
have too much going on to get involved in church…i.e. I'm lazy. I'm scared. I'm
insecure. I'm justifying being vulnerable.
I've
been hurt by the body of Christ (the church people) and I don't want to go back
there. *Note* People are imperfect. They hurt us. But God never does.
Insert
your fear here.
If
you belong to Jesus and if you are in a church, you have a responsibility to be
doing something there. How do I know this?
1Corinthians 12:12-31.
And
now I'm going to show you the context this famous verse was written in. This is
the answer to all your fears and misgivings about using your gifts in the body
of Christ.
"For
God has not given you a spirit of fear, but of power, and of love, and of a
sound mind." 2 Timothy 1:7.
Timothy
was a worrier. Probably about a lot of things. But certainly about using the
gift/gifts God gave him for the church.
Paul
told Timothy (1 Timothy 5:23) "Stop drinking only water, and use a
little wine 
because of your stomach and your frequent
illnesses."
Did
you know that drinking some (not lush amounts) of red wine can control
bacteria, heal ulcers and even prevent them.
Here is just one link that shares this information
. *This is not my personal
invitation for you to go out and slosh down wine or beer. It's a point I'm
making about Timothy.
He
worried himself sick. Literally. Fear jacked up his stomach.
My point is: God didn't give you spiritual gifts to keep
under a flame, hidden in the ashes for whatever excuse you can come up with not
to use them.
The
NIV translations says, "..fan into flame the gift of God, which is in
you…"
Fan
the flame. Stir it up.
Time rekindle it. That word, stir up in the Greek  is anazōpyreō  and it means to kindle up, inflame one's mind, strength, zeal
According
to Dictionary.com, inflame means:
to become hot with passion;
to set or be set on fire
But how do we do this?
*Cue
Alicia Keys, That Girl is On Fire or simply turn to the book of Revelation*
Revelation
1:14 is talking about Jesus Christ: "His head and hair were white like wool, as white as snow,
and His eyes like a flame of
fire…"
What are
His eyes like?
A flame of
fire.
You want
to excited about the gifts God has placed in you? You want to overcome the fear
and shyness that holds you back? You need to stir up some passion and fire? You
need your fire fanned?
Look into
the eyes of fire. Let Him stoke the embers to a blazing inferno. The Lord guides you with
His eye. Full of passion. Fire. Ready to consume your fear. Your timidity. And
to kindle/rekindle the zeal you've been lacking. 
*For more on looking into His eyes read this
POST!
 I wrote on focusing on His eyes while we dance to complicated moves.
Don't you
be afraid! Now get out there and profit the church in a way only you can!
If you are serving in your church, what do you do? I'd
love to hear!