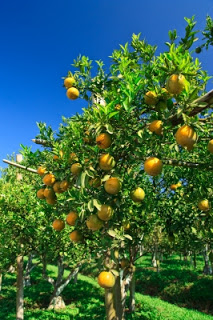 I had a dream and in
this dream, I was in an orchard. The citrusy smell of oranges, the fragrant
smell of apples and pears made me happy. Rows of trees for miles stretched out
before me.
Some of the trees
were huge with ripe fruit and some were only budding blossoms, not yet ripened,
and then I heard a rustling from the trees. I wasn't afraid. My heart sped up
and my stomach did a pretzel twist. From the trees I saw what looked to be black
work boots, but they were knee high. A cross between riding boots and work
boots, though I've never seen anything like it before. And as my gaze traveled
upward, I recognized a smile on the face of the One who owned the interesting
boots. Dazzling white teeth. My hands trembled and I think He knew how giddy I
was that we were together. In this orchard.
"Come," He
said and I grabbed his hand–peace washed over me. "What do you think of
my orchard?"
I don't think I said
anything, but the feeling of beauty and love surrounded me. He led me to two
smaller trees. One had a few blossoms, the other was a tad smaller and bare,
but beautiful. They fascinated me.
"Sit while I
work. I want to show you something."
I did as I was asked
and took shade under a large tree, ripe with fruit. I nestled against the trunk
and security filled my chest. He looked at me and all I saw were dark eyes.
Strange how I could see His face, yet I couldn't at all. Never once was it clear.
But the feeling I took away from the way he looked at me was as if He was
amused at how I felt nestling under this large fruit tree. As if he knew
something I didn't.
He reached up and
started to break wilted blossoms off the taller tree, running his hands along
the buds with loving care. "This is beautiful, don't you think?"
I did. I almost
cried from the overwhelming beauty. Somehow I knew this tree was special.
"All trees need treated with care, Jessica. But the young ones need
extra."
I nodded and watched
as He skillfully tended the tree. He opened his palm and rays of sunshine
glistened around the tree like a halo. "Let My light shine." He
smiled. I only saw the smile.
Then he moved to the
next tree. Pale green leaves, small–showing how tender it was stood next to
the tree basking in the light of the Tender and I continued to sit under the
giant tree that seemed to shade me with love and protection. As if its branches
cherished me. I reached up and brushed one of the leaves before turning my
attention back to the young tree.
He knelt and began
to smooth the grainy earth around the tree, covering young roots that exposed
themselves. His hands moved gently, and he whispered to the small tree then
stopped to laugh as if they were having a conversation, but I couldn't hear
what was said. He chuckled again and nodded then opened his palm and rushing
water burst forth and the leaves grew
vibrant. A green I've never seen before. Not emerald but even more so!
Tears filled my eyes
and I crawled near, careful not to upset the freshly cultivated soil that
protected the roots of the bare baby tree.
"Do you see how
I gently tend?"
"Yes," I
whispered.
"Do you know
why you love these trees so much?"
I did not.
"They belong to
you." He stroked my cheek. "I've given them to you. Gifts. We'll tend
them together." And in that
instant, I knew those two trees, one older than the other, were my
daughter and my son.
I turned back to the
great tree with much fruit and heard the Him laugh, a soft, whispery laugh.
My husband. I'd been
leaning against my husband, learning how to tend my young children.
To help them grow
and bear fruit. Fruit that lasts. This week was their first back at school. I
always have apprehension. I get nervous
for them. I know they'll hear things that will make me cringe–new phrases, new
words. Pollution.
But I also know
these times are opportunities to trim their trees and teach them what the Word
of God says. I know my Savior will be filling them with His light and watering
them, tending to them alongside me. Or more like me alongside Him.
And I am comforted.
"I am the true
vine; my Father is the gardener. He cuts off every branch of mine that does not
produce fruit. And he trims and cleans
every branch that produces fruit so
that it will produce even more fruit."
John 15:1-2 (NCV)
Have you ever been to an orchard? What's your favorite fruit?
And how does it make you feel knowing Jesus is tending to you–to your
children, your spouse?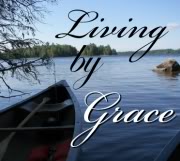 I'm hosting today! Come
by and let's chat!
photo credit: freedigital photos