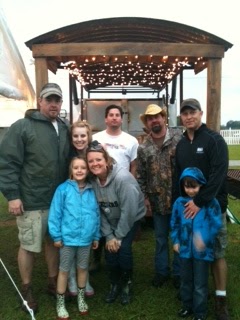 It all started on Thursday. Setting up tents, bringing out the trailer and getting things ready for smoking on Friday.
TP and I are part of a life group at our church called the Cornerstone Q-Crew. We BBQ! Our close friends are involved and the big guy on the left, one of our closest friends heads it up!
This is the second year we've been competing and the second year we went to Springfest which is a biggie for us.
Of course, it isn't Springfest without the weather freezing us out and the rain soaking us.
Everyone slipped on mudboots and worked in the rain, taking cover under tents when we could and naturally, we let our kids have a blast in the rain on the rides–once it stopped lightning. Gah! How bad of a mom do you think I am? 🙂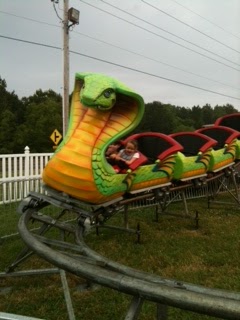 Friday night we hung out and fed people, only this year because of the rain, very few showed up. We have more shoulder, ribs, brisket, butt, chicken, and pasta salad than some small countries. That's kind of sad isn't it? We'll be giving it all away and freezing some of it.
Saturday, we spent most of the day presenting to judges, then I picked up my kiddos and we all walked around, remembering when we were kids and loved fair rides, of course most of us looked at the ground or pretended to be in gross conversation while our children spun around and around, just a glance and we'd all puke!
Remember when you didn't get sick to ride rides? I miss the fun and excitement. Seeing it in my little boy made my day. My daughter isn't young enough to act giddy, mostly she spent it talking to friends who showed up and begging me for more money as if BBQ wasn't enough, she needed lemonade, chicken on a stick, fried oreos, a corndog, and cotton candy. Sigh.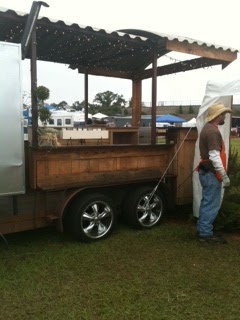 This is our trailer. The guys built it and everything
themselves!So rustic and cute, though I doubt that's
what they said while building it!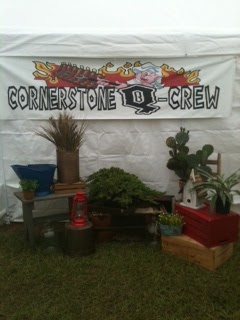 This is part of our entrance decor into the tent
for the judges and ambassadors! We have a genius
decorator on our team. It's not me. 🙂
Here's a few more pics!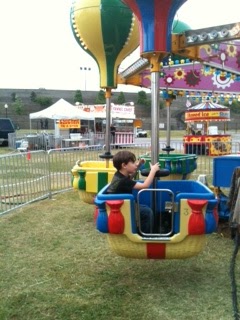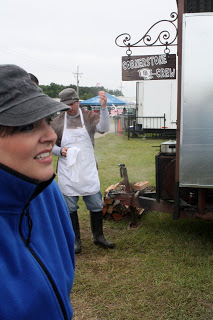 I'm freezing! I don't do cold!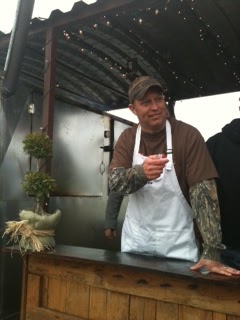 I'm not sure what my husband is up to
but that's one of his mischievous grins.
What do you think?

I'm exhausted today. I'll be honest. We didn't win the grand prize, but the buzz around the BBQ tents were, we treated the judges and ambassadors like no one else, our decor was #1 and we were the friendliest people. Other teams came by just to see our set up and to introduce themselves. So no prizes. But we showed Jesus. And we didn't hand out one tract! (I'm not a fan of tracts in any form)

That's what it's all about. Showing love and making relationships.

What did you do over the weekend? Do you like BBQ? Have you ever been on any kind of team that competes? What was it?