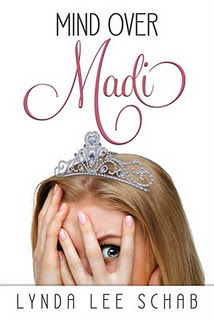 Think sunshine, giggling, chocolate, friendship, and holding hands.


All things that make you want to be there. Where is there?


Mind Over Madi!


I have the honor today to interview Lynda Schab after reading her debut novel, Mind Over Madi!
The book was incredible. I read it in a sitting and a half. Only because I knew I had to get up early and I couldn't drag it all day since naps weren't going to be in order.
I connected with Lynda through her fun blog, On the Write Track. You should join the site. Thanks for letting me read your debut novel, Lynda, and thanks for coming by to chat with us today about the book and you!
JP: So…tell everyone what Mind over Madi is about?
LS: Madi McCall is a 38-year-old mom of three whose insecurities are destroying her marriage. When she suspects her husband Rich is cheating with the mother of one of his fourth grade students, she kicks him out of the house and he moves in with his bachelor brother. Madi is then forced to take a deeper look at herself and her insecurities. She does this with the help of a counselor, her best friend Sylvie, and a few cartons of Edy's Dibs. At a 20-year get-together with former high school classmates, Madi runs into "the other woman" and things come to a head. It's a lighthearted story about taking a true look at ourselves and accepting God's grace when we think and do dumb things.
JP: I loved the first person present tense. I was right there with Madi through her antics, every Dib she shoveled in her mouth, and through her discoveries. I can also relate to some of Madi's insecurities, as I think most women can. Which character is most like you, and why?
LS: There is a lot of me in Madi. Insecurity is something I've always struggled with. As a child, I was very shy. As a teenager, I was insecure about everything, which resulted in a lot of rebelling and contributed to hundreds of my mom's migraines, I'm sure. As an adult, early in my marriage I experienced some of the insecurities Madi deals with, regarding her husband and his faithfulness. That isn't something I deal with anymore today, but I still have similar insecurities about what others think of me, as well as doubts about God's love for me. Other ways I'm like Madi is that we share bad eating habits, a love for coffee, a tendency to waste hours of time playing computer games, and an insane fear of spiders.
JP:I raise my tacquito and nod in agreement to bad eating habits. Let me wipe the grease off my fingers so I can ask the next question. Okay, I love the tiara on Madi's head (on the cover, people, look alive). I know why it's there, but you tell it best!
LS: Madi's therapist challenges her to think of herself as a princess – the daughter of the King. Madi has never thought of herself this way, and throughout the story, there are references to various Disney princesses as Madi tries to figure out which one she most relates to. I had fun with the theme, even giving "the other woman" the fairy tale-ish name of Fawn Witchburn.
JP: I loved that by the way, and my very favorite line in the whole book has to do with the crown. I will never forget it. Brought tears to my eyes. It was lighthearted, but the subject matter was poignant. Great job! What's next for you?
LS: I am currently working on book #2 in the Madi series, titled, Madily in Love. Now that Madi and Rich are working things out, she attends a class at church to try to put the romance back into her marriage. But with her mother-in-law living with them, Madi's new job, and issues with her kids, things don't exactly go as planned. It's a fun book that will look at finding peace –and romance – in the middle of chaos.
JP: Amen to that, sista!
LS: There will also be a book #3. I have the title and the premise, but I'll save the details for later, when I have the plot worked out.
JP: Can't wait! You're going to be busy! Do you have a "day" job?
LS: I do freelance work, but I also work in a warehouse as part of a pricing group for Meijer. It doesn't sound all that glamorous (and it's not!) but I actually enjoy the physical work. It's a nice change from the mental strain that freelancing and creativity can cause. If I got a couple of additional regular writing gigs, though, I wouldn't mind staying home full time to do what I love to do most.
JP: I bet not! With work and a family, what's your writing process?
LS: Honestly, I don't have a typical process. As this is my debut novel, I'm on a learning curve. While writing MIND OVER MADI, I basically wrote when I felt like it, with no set schedule. Now that I have contracts for the next two books in the series, which my editor wants to publish 6-9 months apart, I'm doing everything I can to learn how to organize my time effectively. But I do tend to work better on a deadline, so hopefully that will work out for me. We'll see!
Lynda, I know you're floating in the clouds and that is such a cliched statement. But everything I can think of is a cliche to so, I'll say this: Congratulations!
Have any questions for Lynda?
What Disney Princess or Prince if you're a guy, are you?