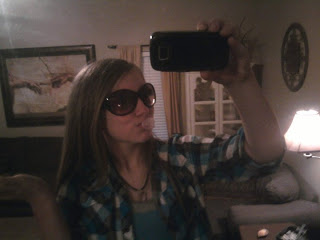 Bailey…need I say more?
You hope it won't happen, but when it does you're faced with the reality that life will never be the same again. First, an anvil smacks your chest, then a quarter-sized knot forms in the back of your throat and flashes of horrible places materialize in your mind. You bite your lip and try to figure out a way to keep it from happening.


That's right. The moment you realize your daughter is as directionally challenged as you are.
Here's how it all began…
The party foods were purchased. My house was clean and candles burning. The wood was stacked by the fire pit and I had decided to let my daughter and her friend go outside and down the street.
Let me be clear. I never let my daughter wander around the sub-division. The fact that she's out of my sight freaks me out a little. But she just turned 13 so when she asked if they could go across the street, I thought she meant down to the stop sign and back or hanging out in front of the house.
I went on about my business. Other friends were about to arrive along with one of my BFF's "Jane." I texted my daughter.
"Come home. Em is going to be here soon."
"Yes, ma'am."
10 minutes went by.
"B, come home!"
"Yes, ma'am."
What I found later that happened in these moments between texts was this:
Bailey calls "Jane."
"Jane, can you tell me if Pintail and Windsor is close to my house?"
"Why? Where are you? Is your mom lost again?"
"Um, no, but I am."
"Where are you?" Jane asks.
"I don't know! That's why I'm calling you!"
"Call your mom. I'm on the way there now. I don't know where Pintail or Windsor is."
Not wanting to call her mother, Bailey and her friend wander aimlessly until she spotted a man and his friend in their yard. She took another look and realized he was a teacher at her school, but not one of hers, so she walked up and asked, "Could you help me?"
"Sure, what's up?"
"I can't find my house." OMG Seriously? She's 13! I'm pretty sure I died a little when I heard this.
I can only imagine his face or thoughts at this point. "What's your address?"
She tells him.
"Oh, sweetie, you're way off." He proceeded to give her directions and apparently she took one turn more than she should. Finally she decided to call when she got this message.
"If you don't get home ASAP, I so will ground you on your birthday and take back all your presents. Try me. I dare you."
My phone rang. "Mom…uh…where's our house?"
It took a second for her words to register.
"I'm at Pintail and Windsor." Which she didn't even pronounce right. It's not Windsoar. It's windzer. And I wasn't exactly sure.
"Please tell me you aren't lost in our subdivision? Really, Bailey? I can't leave! Guests are coming!"
"Miss Jane doesn't know. I tried her first."
"Are you facing the sun or not?"
"I am now. But when I turn around I'm not." OMG!
"I guess I'll have to call Cheryl and tell her to go on in the house, hopefully she'll get here before a robber since I have to leave it unlocked. Don't move."
I called Cheryl. "How far are you away?"
"Oh not far."
I explained I let my daughter and another child wander off and get lost. I'm sure she was feeling confident about leaving her granddaughter. She laughed. I didn't miss the slight shake in it. I hung up and started looking at road signs.
Two minutes later, they were standing on the corner (God help us not that kind of corner) waving at me like a couple of complete goofs. They were literally straight down the street.
I get to the house before Cheryl and then Jane drives up. "Where were they?"
"Down the street. Literally."
She laughs. "Like mother like daughter." And I remember when Jane and I got lost going back home to IL. We went 4 hours out of the way before I realized it. Yeah, I blogged about it.
Will I ever let Bailey get her license when she can't even get herself home in our subdivision? I don't wanna, but how long until I absolutely have to cut the apron strings?
Her defense: "Mom, if you ever let me hang out in the subdivision I'd know my way."
True.
But maybe not if she really is like me.
Do you see the terrifying things about yourself in your kids?
Ever see a hint of your parents in you?
By the way, Jane and I did survive the party thanks to locks on doors and tons of TIVO'd shows and my laptop. Starting the bonfire was interesting to say the least. I'll have to buy more lighter fluid…