First, I want to let you know I'm so doing a dance right now for my friend Jodie Bailey, who just signed a contract with Steeple Hill! Yay for debut novels! I'm so excited! Go by and congratulate her!


Now, on with the show this is it!


"Do you believe in demons?"


"What did she mean? 'I believe in a power stronger than demons."


"Then you'd better be calling on it."


I loved this small piece of dialogue in Attracted to Fire by DiAnn Mills. It leaves you with a sense of doom approaching and the possibility of not being strong enough to fight off the evil.
Agent Meghan Connors and Agent Ash Zinders are tossed together to protect the Vice President's alcoholic and drug addicted daughter when threats are made on her life, but Ash doesn't like female agents and Meghan resents it almost as much as she's determined to prove her worth.
To add more conflict, they both want the same promotion. Eeek!
I enjoyed this romantic suspense. Her characters were believable, real, and courageous, but not invincible. When it came to personal relationships, they were vulnerable, timid, and frightened.
I happen to love reading books about flawed characters. I love watching and journeying with them as they grow and mature. And I love books filled with danger!
If you do too, you'll want to pick this one up!
DiAnn subtly weaved renewed faith, healing, and trust in God into an action packed book without being preachy or obvious.
*Thanks to Tyndale for letting me review this book in exchange for my honest opinion.
I gave Attracted to Fire 3 out of 5 stars!
Here's a sneak peek at the book: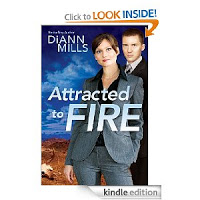 "Special Agent Meghan Connors' dream of one day protecting the president of the United States is about to come true. Only one assignment stands in her way. After the vice president's rebellious daughter is threatened, Meghan is assigned to her protective detail on a secluded ranch in West Texas. Unfortunately, working with Special Agent in Charge Ash Zinders may be as tough as controlling her charge. Ash has a reputation for being critical and exacting, and he's also after the same promotion as Meghan. But when the threats escalate and security on the ranch is breached, it becomes clear this isn't the work of a single suspect—it's part of a sophisticated plan that reaches deeper and higher than anyone imagined. And only Ash and Meghan can put the pieces together before it's too late."




Fall is here! What is your favorite thing about the season?