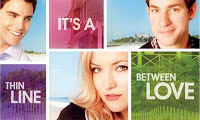 Something Borrowed is a movie based on the book by Emily Giffin.
Anything with John Krasinski in it, and I'm there. I'm a huge fan of The Office and he doesn't even need to talk to be funny.
I'm also a huge fan of romantic comedies (books and movies) and love triangles. Especially love triangles. I love the push-pull all through the story!
This story/movie is about: (taken from Emily Giffin's website)
"Something Borrowed tells the story of Rachel, a young attorney living and working in Manhattan. Rachel has always been the consummate good girl—until her thirtieth birthday, when her best friend, Darcy, throws her a party. That night, after too many drinks, Rachel ends up in bed with Darcy's fiancé.
Although she wakes up determined to put the one-night fling behind her, Rachel is horrified to discover that she has genuine feelings for the one guy she should run from. As the September wedding date nears, Rachel knows she has to make a choice. In doing so, she discovers that the lines between right and wrong can be blurry, endings aren't always neat, and sometimes you have to risk all to win true happiness…"
*I don't necessarily agree with everything in this book/movie–just sayin
I went to the movie with my hubby for part of our anniversary. Sixteen years! I love that he likes chick flicks. Before we could dig into popcorn he said, "If you like this movie, great, but please don't say what you always say."
I grinned because when we're watching movies or TV and say, "That's good writing."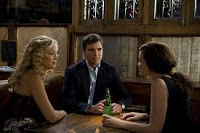 It was good writing and I'd like to say I refrained from saying so, but hubster was irritated with the hero of the movie. Why? Because his sick mother was keeping him from making the right decision. In a nicer way, what hubster thought, was the hero was a pansy for not taking what he wanted.
I saw him as torn between who he wanted and why he felt he had to stay where he was. Because it was good writing.
Keep them apart as long as you possibly can. Make the reader beg for them to be together.
My husband isn't a romance reader. He doesn't care about the angst we love to feel during a good read. He just wanted the hero to say, "I really don't care about anything else but you. Period." Then take what he wanted. Such a man thing isn't it?
So naturally when he made a few references to how girly the hero was acting, I had to say, "I understand, but…that's good writing."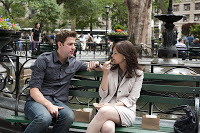 I haven't read the book, so I'm not sure how the minor character's story ended. In the movie, I was slightly disappointed. I think I may have to get the book. Books are always better anyway. Right?
Do you enjoy reading books or watching movies with love triangles? Why or why not?
Have a great holiday weekend! I won't be here Monday, but catch you on Wednesday!