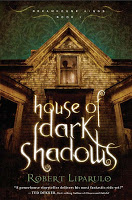 "Moooom!" her son screamed. Full of despair. Reaching. Almost to the door. "Mo–"
The door closed, separating her from her family forever."
Robert Liparulo is the author of the Dreamhouse Kings Series for Young Adults. House of Dark Shadows is the first. A man takes his family back to his childhood home, where his mother was kidnapped from.
The interesting thing is, the mother wasn't taken away from the house, but down a dark corridor inside the home and into one of the many rooms that leads to other places and times.
I enjoy reading Young Adult fiction and suspenseful fiction. I got both in this book! The only bummer of the book is when it ends, I still have no idea who did it, how they did it, or where those kidnapped went. Upside? I get to read the rest of the series to find out! Which I will. My daughter is going to read it next–when I let her have my kindle!
Here's a teaser:
DREAM HOUSE . . . OR BAD DREAM?
"When the Kings move from L.A. to a secluded small town, fifteen-year-old Xander is beyond disappointed. He and his friends loved to create amateur films . . . but the tiny town of Pinedale is the last place a movie buff and future filmmaker wants to land.
But he, David, and Toria are captivated by the many rooms in the old Victorian fixer-upper they moved into–as well as the heavy woods surrounding the house.
They soon discover there's something odd about the house. Sounds come from the wrong directions. Prints of giant, bare feet appear in the dust. And when David tries to hide in the linen closet, he winds up in locker 119 at his new school.
Then the really weird stuff kicks in: they find a hidden hallway with portals leading off to far-off places–in long-ago times. Xander is starting to wonder if this kind of travel is a teen's dream come true . . . or his worst nightmare."
Do you like YA fiction? What's your favorite YA book?