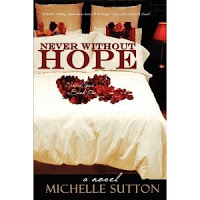 Michelle Sutton is the "edgy" Christian fiction queen for a reason. She delivers a raw and powerful story of marital issues that most dance around or ignore.
Her novel, Never Without Hope is a very graphic (without being tacky), yet real view of a married Christian woman who gives in to sexual temptation, what keeps her in this poisonous affair, the consequences, hope, and healing.
I think it's interesting how much wisdom and insight she gives to Hope's young son. He's quite the encourager throughout the book. I liked seeing that.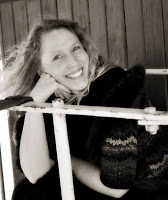 Visit Michelle at
www(dot)michellesutton(dot)net
facebook
twitter
I laughed, cringed, cheered, and got angry often. That's the sign of a good book to me. I want to feel what they do. Get mad when they do something stupid, and sympathize with them. I even felt sorry for the "other man." At first, I wanted to smack him but Michelle weaved the story so well, by the end I just wanted him to be happy. In his own marriage of course! I'm looking forward to the next book.
Anyone who thinks they're above sexual temptation, has broken vows and needs healing, or just likes edgy Christian fiction should read this book. If you've never read this kind of writing before, give it a try and see how you like it! Never Without Hope is available as an ebook and in paperback.
Here's a teaser:
"Hope believes she is above sexual temptation; that she would never break that commandment like her husband's previous wives had done. After all, she is a good Christian and a loving mother. She has no reason to stray . . . until her husband starts neglecting her needs and things begin to look hopeless. Though she clearly communicates her pain to her husband, he refuses to get help. She starts to wonder…Will she never have sex with her husband again? She soon learns that she, too, is capable of such betrayal when she succumbs to the unthinkable. But things that first seemed sweet and reasonable given her painful situation soon produce a bitter taste when combined with the overwhelming guilt. No substitute will ever replace her love and desire for her husband. If only he would touch her like he used to. If only they could make love again. She misses him so much and wants to tell him the truth hoping it will propel him to do something to fix their problem, but she fears his rejection. Yet, she can't continue living such a hypocritical life. She knows it's wrong even though she continues to crave physical intimacy. Steeped in the quagmire of adultery, Hope must find her way back to solid ground to save her marriage. But will she lose everyone she loves in the process?"
Drop back in and tell me what you thought!