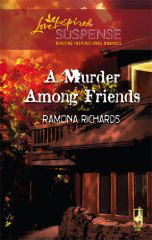 A gripper from the beginning, A Murder Among Friends, is a very entertaining, suspenseful and spiritual book with a lovely romance.
Ramona's characters were easy to slip into. I think you'll find at least one of them you will identify with. It's a 269 page read. For avid readers that shouldn't take too long. A day…a few hours. Worth the time for a fast paced action packed book.
Her dialogue is flavorful and real. I'm picky about my dialogue, so I pay close attention to other writers and how they do it. She happened to keep it fun, flirty, and emotionally charged. A+ Her description of the writer's retreat felt very real, down to the soggy leaves from the rainy days.
Everyone is keeping secrets, pretty much everyone has a motive and it was on page 200 that I dropped my jaw because I hadn't totally figured out who was behind the murder. I do love surprises!
Her backstory was wonderful and well written. I felt like I knew Aaron and that made me care more about him being dead. That is NOT a spoiler alert. The book dives into the murder on page one and of course the title gives it away!
Christians make mistakes–big ones in this book, giving Ramona the opportunity to weave God's grace and love through every page. I think it's a tad over $3.00 on kindle at the moment. Take the opportunity and read it and of course, drop back by and tell me what you thought.
Here's a teaser:

Author, editor, speaker
Ramona Richards
www(dot) ramonarichards(dot)com
"The death of bestselling author Aaron Jackson turned Maggie Weston's world inside out. The manager of Jackson's Writers Retreat, Maggie knew a murderer hid among her colleagues and friends. Was it actress Lily Dunne, target of a stalker's obsession? Lily's writer husband, struggling to make a name for himself? Money-loving Korie, Aaron's wife? Or someone else?
Maggie herself stood to inherit from Aaron's estate.
As former New York City cop Fletcher MacAllister piled up evidence against Maggie, only faith kept her strong. And Fletcher needed to rekindle his own faith in time to prevent the killer from claiming another victim."